(AKA "THE ORIGINAL TFC")
from Double Happiness Cookbook
This fried bird garnered acclaim, fame, and accolades in its lifetime, and not a week goes by without someone asking me about this infamous dish. We took an original Taiwanese flavour profile, added Western flair, and even made it gluten free. Traditionally, at Taiwanese night markets, it is served as a boneless cutlet in a paper bag, but I've opted for southern style with side dishes and cold beer. My preferred pairing is an ice cold Daura Damm for a completely gluten-free experience.
Serves 3–4
Prep 10 min, plus at least 2 hr resting time
Cook 20 min
Ingredients:
Rubbed chicken
8–10 pieces chicken, drumsticks, thighs, and/or backs separated
1/2 tsp salt
1/2 tsp black pepper
Batter
1/2 cup cornstarch
1/2 cup tapioca starch
3/4 cup custard powder (such as Bird's)
1/2 Tbsp salt
1/2 tsp black pepper
1 egg
Assembly
Vegetable oil, for deep-frying
1/2 tsp white pepper
1/2 tsp salt
4 bird's eye chiles, finely chopped
1 spring onion, finely chopped
6–8 sprigs cilantro, chopped
1/2 lemon, cut into wedges
Thai sweet chili sauce, to serve (optional)
Directions:
Rubbed chicken
Rub chicken with salt and pepper, cover, and refrigerate for at least 2 hours but preferably up to 8 hours.
Batter
Combine all the dry ingredients in a bowl. Add egg and 1 cup water and, using your hands, mix thoroughly. Add chicken and mix to thoroughly coat.
Assembly
Heat oil in a deep fryer or deep saucepan over high heat to 375°F. Using a metal slotted spoon, carefully lower battered chicken pieces into the oil, submerging them. Deep-fry for 8–10 minutes, until the centre of the chicken has an internal temperature of 180°F. Transfer to a plate lined with paper towel to drain.
In a large bowl, combine chicken, white pepper, and salt and toss well. (For maximum flavour, first fry salt and pepper in a pan over high heat for 5–6 minutes, until fragrant.)
Transfer to a platter and garnish with chiles, spring onions, and cilantro. Serve with lemon wedges and sweet chili sauce (if using).
Excerpted from The Double Happiness Cookbook: 88 Feel-Good Recipes and Food Stories by Trevor Lui. Photographs by Suech + Beck. Copyright © 2020 by Trevor Lui. Excerpted with permission from Figure 1 Publishing. All rights reserved. No part of this excerpt may be reproduced or reprinted without permission in writing from the publisher.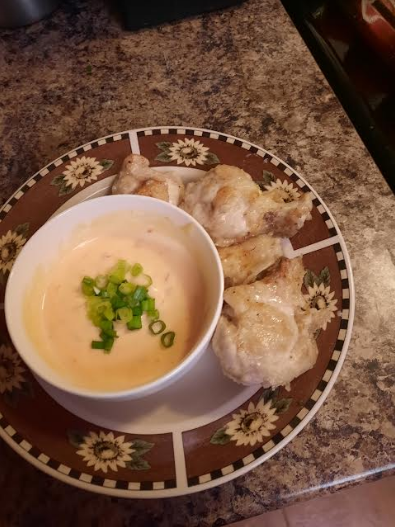 Nada's Tips & Tricks: We made the dipping sauce from the Chicken Wings recipe on the following page…and paired with this recipe, it delivered a double heat punch!