from Gastro Grilling
I love burgers! I love 'em so much I wrote a whole book on the subject. I even went as far as securing a Guinness Book of World Records entry for the World's Largest Commercially Available Hamburger. At the time, my record stood at 590 pounds (268 kg). https://www.worldrecordacademy.com/food/largest_hamburger_world_record_set_by_Chef_Ted_Reader_101685.htm#:~:text=Largest%20Hamburger%20%2D%20world%20record%20set%20by%20Chef%20Ted%20Reader&text=TORONTO%2C%20Canada%20%2D%2D%20Chef%20and,record%20for%20the%20Largest%20Hamburger.
For me, the quest for the ultimate burger has been lifelong. But first my story.  Years ago, I wrote a recipe for Better Butter Burgers.  They were pretty darn tasty and fans have told me for years that they love that burger.  Well I like it too, but I wanted it to be even better.  But in order to do that I need to (1) grind my own meat and (2) not grill it but "stone grill" it.  Even heat, buttery sizzle, no big greasy flare-ups, just nice and easy cooking on a stone.  Trust me, this recipe rocks.
Makes 12
What you need: Cooling rack, Cookie sheet, Meat grinder with grinding blade and 1/8 inch (3 mm) grinding plate, Grilling stone.
Ingredients:
3 lb (1.4 kg) beef chuck
2 sticks (8 oz/225 g) cold butter
Honey Mustard Onions
2 large sweet onions
4 cloves garlic, minced
Salt and freshly ground black pepper, to taste
Drizzle of canola oil
2 tablespoons (30 mL) prepared yellow mustard
1 tablespoon (15 mL) honey
1 oz (30 mL) Canadian Club Small Batch whisky
Woozy Mop
10 cloves garlic, minced
1 teaspoon (5 mL) freshly ground black pepper
1 teaspoon (5 mL) kosher salt
1 tablespoon (15 mL) mirin
3 tablespoons (45 mL) Worcestershire sauce
2 tablespoons (30 mL) canola oil
12 buns
12 slices Swiss cheese (optional)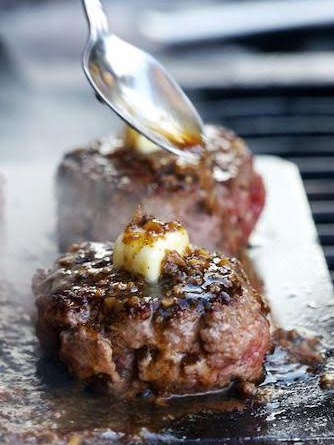 Directions:
Go to your local butcher and get a few pounds of beef chuck. Unwrap the beef chuck and pat it dry with paper towels. Place beef on a cooling rack over a cookie sheet and place into the refrigerator for at least 4-6 hours (overnight is best) to allow the meat to air dry a little. This reduces the moisture in your ground meat and allows for a burger that is not too wet and sloppy.
Set up your meat grinder according to the manufacturer's instructions.
Cut the beef chuck into 1- to 2-inch (2.5 to 5 cm) chunks. Cut both sticks of cold butter into ½-inch (1 cm) cubes. Keep the butter cold as it will grind more easily. Grind the beef chuck and the cubed cold butter together, alternating between a few chunks of meat and a little butter. This way the butter grinds right into the meat. When all the meat has been ground once, give it a quick stir or mix and then grind it again. Place ground meat back into the refrigerator and allow it to rest.
While the ground beef and butter mixture is resting, prepare the Honey Mustard Onions. Slice the onions and place them into a bowl. Add the garlic, salt and black pepper to taste. Drizzle with a little canola oil. Set aside.
In a bowl, whisk together the mustard, honey, and whisky. Set aside.
Prepare the Woozy Mop. In a bowl, combine garlic, pepper, salt, mirin, Worcestershire sauce and canola oil. Stir, this should be a little slushy. Set aside.
Fire up your grill to 350-450F (180-230C).
Place your grilling stone directly over your fire source. The stone should sizzle when you drop a little knob of butter onto it. Be careful not to overheat the stone because it can still burn your food.
Open grill lid and drop a teaspoon (5 mL) of butter onto the hot stone. As it melts and sizzles, add the onion mixture on the stone. Using a pair of tongs, spread the onions into an even layer. Let the mixture sizzle for a few minutes, then give them a stir with the tongs. Turn them so they start to brown on all sides.
Drizzle sautéed onions with the mustard mixture. Stir and season to taste with a little salt and black pepper. Set onions aside in a small bowl or a corner of the stone. Keep warm.
While the onions are sautéing, scoop the ground meat mixture into 3- to 4-oz (85 to 115 g) balls. Don't overpack them, gently press the meat together. Drop another few cubes of butter onto the hot stone and top with 4 to 6 burgers. Using a flat, sturdy spatula, press the balls of meat to flatten. Don't squish them too much, just a little so that they are flat on top and thick in the middle. Stone grill butter burgers for 3-5 minutes, until the burgers are browned evenly on the bottom side. Flip the burgers over, adding a cube or two of extra butter if needed.
Baste a little Woozy Mop mixture over the top of each burger. Continue to stone grill the burgers for 3-5 minutes, until just cooked through and still juicy. When the burgers are almost done, toast your buns on the grill or grill stone for 1-2 minutes, until lightly browned and crisp.
Place burger on bun, top with sautéed Honey Mustard Onions and add your favourite burger garnishes. Some of my favourites are melted Swiss cheese, mayonnaise, thinly sliced raw jalapeno peppers and thinly sliced raw red onions.
Ted's Tips:
Do not squish or press the burgers while they are cooking. Leave them be. Every time you want to push, press, squish and/or cut the burger, go have a sip of your beer or cocktail instead. This will make for a juicier burger.
This recipe calls for grinding your own beef. If you do not have a meat grinder readily available, you can still prepare this recipe. When using butcher- or grocery store-bought ground beef, you will need to soften the butter slightly before mixing it into the cold ground beef. This will allow for an even coating of butter on the meat. Proceed with the same cooking procedure.
Contents and images used with permission by Ted Reader.  https://www.tedreader.com/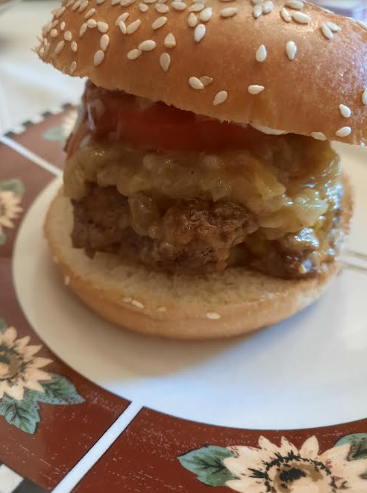 Nada's Tips & Tricks: I tested this recipe while it was snowing so used an indoor grill pan and it worked nicely.  I also used store bought ground beef – even though it looks like a lot, the amount of butter in the beef works really well.  The patties came out moist and juicy.  The Honey Mustard Onions were delicious and I can think of a few different uses for this garnish.  Will make these burgers again!!