Every once in a while, you come across a personality that intrigues you. Chef Stephen Barrett is one of those people. Highly visible in the Maritime culinary and media world, Stephen's trajectory to that place has been fascinating. From growing up in Labrador and going to university in Nova Scotia, his culinary life began in Australia where he attended cooking school and started piling up accreditations that would impress any foodie:
Food writing courses from UBC
A barista course from the Gurkhas Institute
A World of Wine course from the University of Adelaide
Ontario Wine Certificate
Certified Beer Server Certification from Cicerone
Initially Australia was their country of choice for his wife's law schooling and Stephen's teaching career but pivoted with his culinary education and apprenticeship. With Melbourne being the hub of an extensive and varied food scene, the couple extended their life in Australia from two years to becoming citizens over a seven-year period.
But…home in Atlantic Canada for both him and his wife was calling them to return and raise their young family around family and friends. Stephen has developed his Seasoned Plate business in Canada to include virtual cooking classes, pop-up restaurants, restaurant chef, guest judge for Curated Halifax's 50 Top Places to Eat, named Influencer of the Year by the Restaurant Association of Nova Scotia, community college event chef, regular guest on CTV Atlantic Live and BBC TV. Add to that, visiting over 40 countries to enjoy authentic local cuisine and we can dub Stephen one busy guy!
As an influencer, Stephen is quite busy on Instagram and other platforms.  You'll want to check out @seasonedplate as well as www.seasonedplate.ca  While you're there, try a few of Stephen's recipes. We gave Risotto and Seared Scallops a try – find it in our Recipe section.  Stephen's favourite eating experience to make for family and friends is multi-coursed tasting menus with drink pairings, small plates and lots of courses.  He also loves Mexican food, fancy brunch, ramen, and outdoor cooking especially over the fire meals.
Stephen is also a champion of local and regional culinary products. He has developed chef curated boxes like the sweet & spicy one we have in our Giveaway section. For more box options, go to https://seasonedplate.ca/collections/all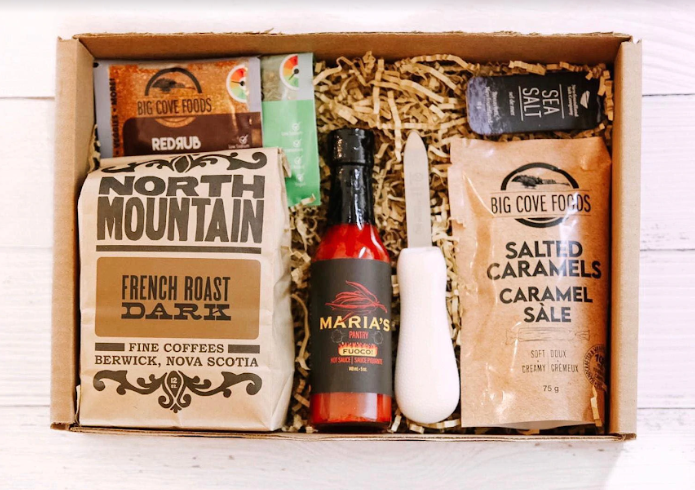 In Stephen's own words:
"I am a passionate cook and eater. I believe that food is such an integral part of every aspect of life. Food is cultural, political, emotional, physical, limiting, empowering, and literally what keeps us alive."
Look for Chef Stephen Barrett on television, at festivals, on culinary tours and special events…this guy is celebrating the amazing food found in Atlantic Canada!
Content and images used with permission by Chef Stephen Barrett, Seasoned Plate. www.seasonedplate.ca