from The True Story of Santa's Sleigh
It was in the 1990 Better Homes and Garden Christmas Cookies Edition that I found the recipe for the Christmas cookies that became part of our annual family tradition. The recipe is for Austrian Ischl Tarts. These are delicious, delicate cookies consisting of two layers filled in between with raspberry or apricot preserves. In my Christmas Story, these were Santa's favourite cookies as well, but I simplified the recipe from double layer cookies to single layer cut out cookies in the book. Christine Kotowycz

Ingredients:

3/4 cup butter
1/2 cup sugar
1 1/2 cups all-purpose flour
3/4 cup ground almonds or hazelnuts
1/2 cup raspberry or apricot preserves
Chocolate icing (see below) or sifted powdered sugar
Directions:

In a large mixer bowl beat butter for 30 seconds. Add sugar and beat till fluffy. Add flour and nuts. Beat till well combined. Divide in half. Cover and chill 1 to 2 hours.

On lightly floured surface roll dough 1/8 inch thick. Cut into rounds with a 2-inch cookie cutter. Cut a small round in the center of half the cookies. Place cookies on ungreased cookie sheets.

Bake in a 350' degree oven 7 to 8 minutes till edges are lightly brown. Remove from oven and cool on wire racks.

Spread about 1/2 tsp. preserves on the center of each whole round. Drizzle
chocolate icing or sift powdered sugar on cutout rounds. Place cutout rounds,
drizzled side up on spread of whole rounds.
Makes 36 cookies.

Chocolate Icing:
In a small heavy saucepan heat and stir 1/3 cup semi-sweet chocolate pieces and 1 tbsp shortening over low heat till melted.
Content and images used with permission by Christine Kotowcyz. https://christinekotowyczbooks.com/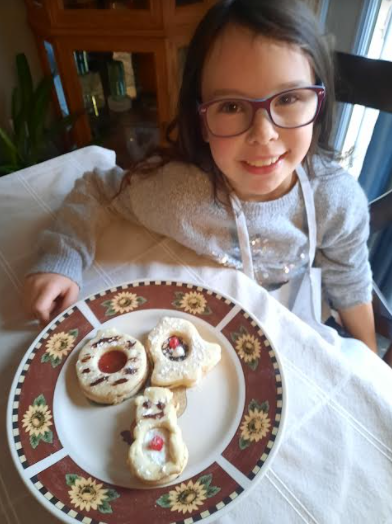 Nada's Tips & Tricks: These are great little cookies – the family loved them. We filled some with the jam, others with chocolate or vanilla icing. We added little touches of jelly beans, chocolate drizzle and icing sugar.