https://christinekotowyczbooks.com/
When you find a book with so many local references, it feels close to your heart as well as home. Christine Kotowycz lived down the road on a farm in the hamlet of Grafton. We both marveled at how our paths crossed and merged.
The inspiration for this book came from a broken-down sleigh at the side of a country road with a For Sale sign on it. As Christine tells it: "the sleigh must have been from the early years of the 20th century. Although the sleigh was worn out, the shape and silhouette were so elegant and charming. I immediately loved it and we bought it, loaded it onto the back of our truck and brought it home to our farm. I wondered by whom and for what purposes had this sleigh been used? What family events had this sleigh witnessed? Through what snowy fields had this sleigh travelled during crisp winter nights?"

And even closer to home, Christine told me that their horse, Napoleon who is featured in the story was trained to pull the sleigh by John Tinny of Cold Springs…just down the road from us. I didn't connect with John but his horse and I had a lovely chat:
Christine continued to tell me how the story developed: "The essence of the story emerged when my young grandchildren wondered whether the sleigh might have belonged to Santa and thus the mystery unfolded. I began to write Santa letters to my grandchildren. I enjoyed seeing them swept up in an imaginative fantasy whenever they visited our farm and played in the old sleigh. I enjoyed their innocence and belief in magical possibilities. As the story developed, I felt that other young children might enjoy this fantasy. It is my hope that with The True Story of Santa's Sleigh new traditions will be born."
I asked Christine how the pandemic had affected her work as an author: she embraced the isolation and filled it with sketching and journal writing and letting the creative juices flow. The result was this beautifully written and illustrated Christmas tale.

In the story, the children are making sugar cookies and Christine included a recipe for it: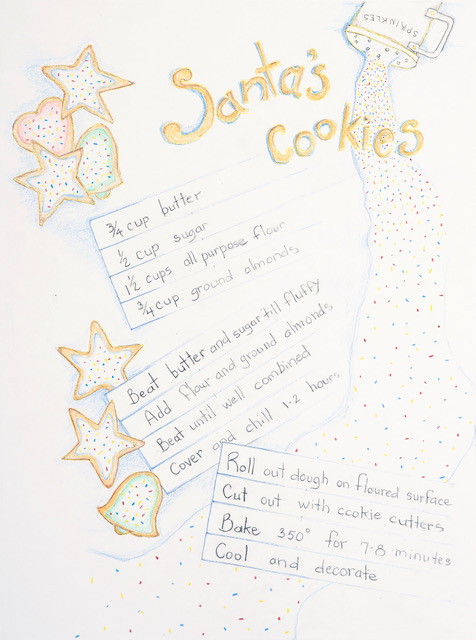 In our Recipe section, you'll find a different version of the sugar cookie recipe and both Lilyanna and I enjoyed making and eating them.  
Head over to our Giveaways and enter to win an autographed copy of this beautiful book. We caught up with the author at the Grafton Christmas Market and Lilyanna and Dominique had their books signed.
To purchase your own copy, go to https://christinekotowyczbooks.com/about-the-book/ and start a new tradition reading this book to the kids!
Content and images used with permission by author Christine Kotowycz. https://christinekotowyczbooks.com/