from Cooking Meat
Serves 8-10
1 (6-7 pounds) bone-in lamb leg, aitchbone removed
Middle Eastern Marinade
½ cup finely sliced green onions
½ cup chopped garlic
3 Tbsp grated lemon zest
2 Tbsp chopped thyme
1 cup olive oil
¼ cup lemon juice
4 tsp salt
1 Tbsp ground coriander
1 Tbsp ground fennel seeds
1 Tbsp ground cumin
2 tsp pepper
1 ½ tsp ground cinnamon
Tzatziki
½ English cucumber, grated
Salt & pepper
1 cup thick Greek-style yogurt
3 Tbsp chopped mint leaves
½ tsp minced garlic
1 Tbsp lemon juice
Directions:
For the marinade: In a food processor, puree the green onions, garlic, lemon zest, thyme, oil and lemon juice until the mixture has the consistency of pesto. Add the salt, coriander, fennel seeds, cumin, pepper and cinnamon, and blend until emulsified. Refrigerate in an airtight container for up to 2 weeks or freeze for up to 3 months.
Note: Start marinating the lamb at least a day before cooking it.
Rub the lamb leg all over with the marinade, wrap it in plastic, and refrigerate for at least 24 hours. If you have the time, 48 hours is preferable.
Preheat the oven to 300F. Better yet, preheat a charcoal grill, adjusting the airflow to achieve 300F. (I prefer to roast a leg of lamb on my charcoal grill. The flavor of the smoke that licks the meat on the grill just isn't replicated in the oven.) Have a roasting pan with an elevated roasting rack ready.
Place the marinated lamb leg on the roasting rack and place the roasting pan in the center of the oven. If you're using a charcoal grill, place the lamb slightly beside the charcoal, to avoid flare-ups. Roast until a thermometer inserted into the thickest part of the meat reads 135F (for medium), about 2 ½ hours.
While the lamb is roasting, make the tzatziki. Place the grated cucumber in a serving bowl, salt it slightly, and allow to sit at room temperature for 1 hour. Drain any liquid from the bowl and, using your hands, squeeze and discard the excess water from the cucumber. Add the yogurt, and then the mint, garlic, and lemon juice to the bowl, stir well, season with salt and pepper, and allow to sit at room temperature for another hour.
Transfer the lamb to a cutting board, tent it with aluminum foil, and allow to rest for at least 30 minutes. To serve, slice the lamb and arrange on a serving platter with the tzatziki on the side.
Excerpted from Cooking Meat by Peter Sanagan. Copyright © 2020 Peter Sanagan. Photography by Peter Chou. Published by Appetite by Random House®, a division of Penguin Random House Canada Limited. Reproduced by arrangement with the Publisher. All rights reserved.  https://sanagansmeatlocker.com/pages/cookbook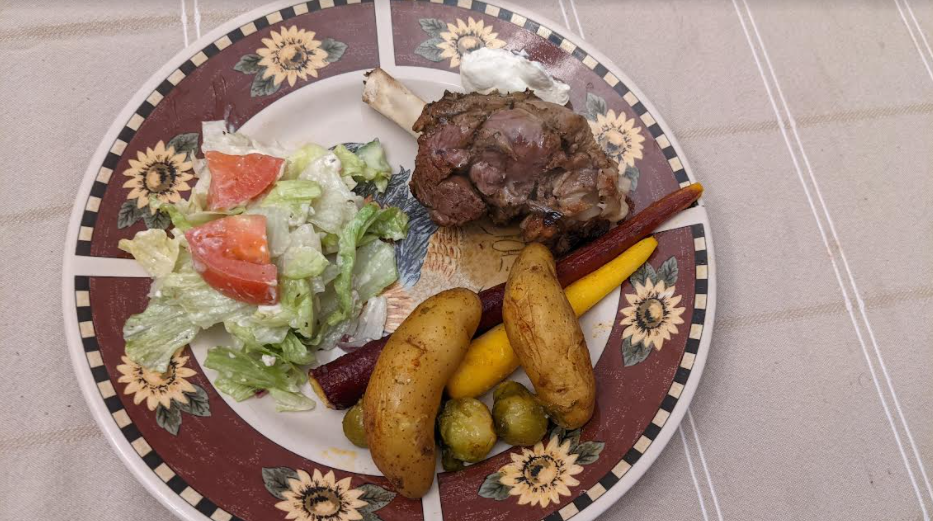 Nada's Tips & Tricks:  I used my Instant Pot to cook the lamb and then transferred it to the oven to brown it.  Because the leg was too long for the Instant Pot, I cut some of the leg off, making a shank seen in the picture.  Served it with roasted vegetables and Greek salad.  My family gets tired of turkey at all the holidays so we switch things up, alternating between turkey, ham, roast beef and lamb.  We'll even give turducken a try this year!