from At Home with Lynn Crawford
A perfect Sunday roast! Serves 8
2 large white onions, cut in 1-inch (2.5 cm) slices
¼ cup (60 mL) Dijon mustard
1 standing prime rib roast (about 6 lb/2.7 kg)
1½ cups (375 mL) kosher salt
¹⁄³ cup (75 mL) prepared horseradish
2 tbsp (30 mL) mustard seeds
2 tbsp (30 mL) thyme leaves
2 tbsp (30 mL) rosemary leaves
2 tbsp (30 mL) cracked black pepper
5 bay leaves, crumbled
3 egg whites, whipped until frothy
Preheat oven to 450°F (230°C).
Layer onion slices in a roasting pan. Set aside.
Slather mustard evenly over prime rib. Set aside.
In a large bowl, combine salt, horseradish, mustard seeds, thyme, rosemary, pepper, and bay leaves. Add egg whites and stir until mixture resembles wet sand. Press salt mixture evenly onto fatty side and ends of prime rib, then place bone side down on onions in roasting pan.
Roast for 15 minutes. Reduce oven temperature to 325°F (160°C) and continue roasting for 20 minutes per pound (450 g) or until an instant-read thermometer inserted in thickest part of roast registers 130°F (55°C) for medium-rare doneness.
Transfer prime rib to a cutting board and let rest for 20 minutes. Remove and discard salt crust before slicing meat.
Excerpted from At Home with Lynn Crawford by Lynn Crawford. Copyright © 2013 Lynn Crawford. Photography © 2013 Kathleen Finlay. Published by Penguin Canada, a division of Penguin Random House Canada Limited. Reproduced by arrangement with the Publisher. All rights reserved.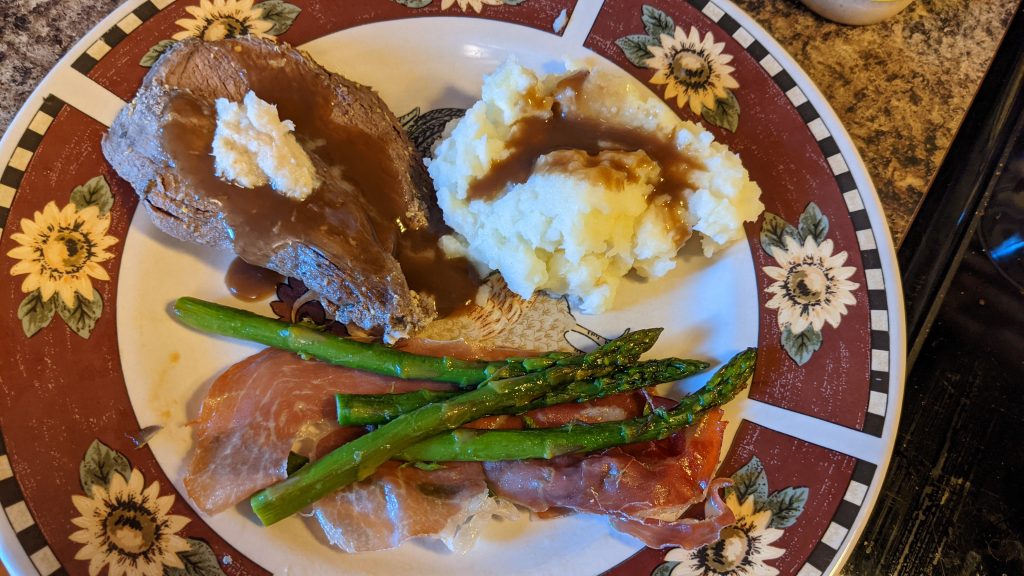 Nada's Tips & Tricks: According to my meat-eating son-in-law, this is the best roast he's ever had…big praise from a carnivore! Get the kids/grandkids involved in slathering the roast with the salt mixture – can get a little messy but they have so much fun. Peter Fehr's (Gourmet Inspirations) sauces would be great on this roast (see Canadians + Food segment).