When you read about people like Alon Farber and Marie-Josée Richer, founders of Prana, you know immediately they practice what they preach. Living sustainably, organically and inclusively, this dynamic duo is minimizing their footprint on plant earth while educating and inspiring the rest of us.
Having met while traveling in India, Alon and Marie- Josée brought back to Quebec their love of nutrition and community to begin building a business model based on eight principles: sustainable food, progressive and inclusive culture, triple impact business, fairness and wellbeing for growers, growing pumpkin seeds locally, greener packaging, minimized footprint in their plant, and mindful innovation. All outcomes from their business and factory are stemmed in these promises. https://pranaorganic.ca/pages/mission
They started small but soon grew to a truckload of items…and they stand behind each product as organically sourced and ensuring the growers are fairly treated. With this common base, you can now purchase cereals, beverages, snacks, baking goods, and more. I love the compilation of themed boxes…how about a joyful box or snacking box? Sounds like fun with a whole lot of goodness packed in each one! https://pranaorganic.ca/collections/all-our-boxes
We then turn our attention to the many recipes developed with all these fine products. There's beverages, breakfast ideas, salads and mains, plus desserts at https://pranaorganic.ca/pages/vegan-recipes-breakfast-diner Or, go to their blog where you'll find more inspiration to try some healthy treats and other lifestyle tweaks – https://pranaorganic.ca/blogs/blog Here you'll learn about Prana's commitment to finding an alternative to using plastic, five tricks to going vegan, or nut nutrition.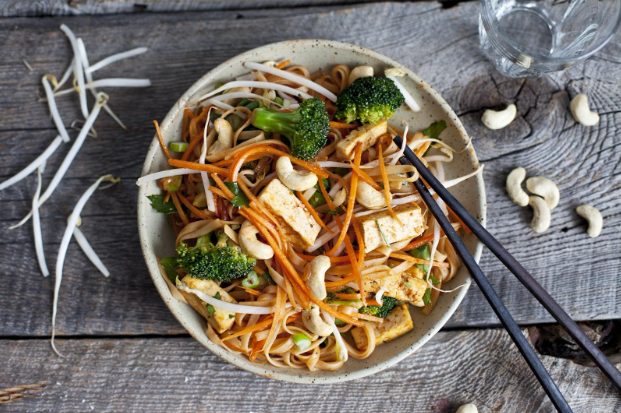 I love Pad Thai so wanted to try Prana's version of the dish. Using their products elevated this dish knowing they were organic and sourced in the best possible way. The carnivores in the family appreciated substituting the tofu for shrimp showing you can take vegan recipes and make them to suit your family's tastes. Check it out in our Recipe section. 
To win a $50 gift card to purchase any Prana products, check out our Giveaway section. Want to get on the organic hay wagon, go to https://pranaorganic.ca/collections/shop-all and start eating healthier!

Contents and images used with permission by PRANA Organic. https://pranaorganic.ca/