from Prana
Pad Thai is a super-flavourful traditional Thai dish. It's easy to prepare and makes a satisfying and filling meal that'll please the whole family! For an absolutely delicious meal, serve with crunchy cashews, fresh cilantro and a wedge of lime.
Servings: 4
Prep Time: 30 minutes
Cook Time: 15 minutes
Ingredients:
Pad Thai sauce
2 tbsp tomato paste
4 tbsp soy sauce
¼ cup lime juice
2 tbsp maple syrup or PRANA organic fair trade cane sugar
3 tbsp water
2 tbsp rice vinegar
Sriracha sauce to taste
Pad Thai
Rice noodles
2 tbsp vegetable oil
1 block firm tofu
2 cloves garlic
1 generous pinch PRANA unrefined Algarve sea salt
2 French shallots
¾ cup broccoli florets
3 green onions
1 cup fresh cilantro
¼ cup PRANA organic non-roasted cashews
1 cup bean sprouts
2 carrots
Lime wedges, for serving
Directions:
Pad Thai sauce
Place all the ingredients in a Mason jar, close with the lid and shake to mix. Set aside.
Pad Thai
Cook the rice noodles according to the package directions (usually about 3-5 minutes). Once cooked, rinse them in cold water to stop the cooking process. Set aside.
Julienne the carrots with a mandolin, grater or peeler. Mince the shallots and green onions. Chop the garlic and cilantro. Coarsely chop the cashews.
Cut the tofu evenly into strips. In a large nonstick skillet, heat the vegetable oil. Add the minced shallots and cook for about 2 minutes. Add the tofu, garlic, and pinch of salt. Brown the tofu for 2 minutes over medium-high heat. Add the broccoli florets and cook for another minute.
Add the cooked noodles and ⅓ cup of the sauce, mixing well to cover all the ingredients. Cook for about 30 seconds, until the sauce is absorbed.
Add the green onions and cilantro and toss lightly. Add 1 tbsp of sauce at a time until the desired texture and flavour is achieved.
To serve, add the carrots, bean sprouts and cashews. Garnish each plate with a wedge of lime.
Nada's Tips & Tricks: I LOVE Pad Thai so was excited to try PRANA's take on it. The sauce is great and what makes this dish special. To keep the carnivores in the family happy, we had it with shrimp instead of the tofu and it was a hit. I also used broccoli sprouts instead of the bean…use what you have on hand. You can taste the difference when using organic ingredients like Prana!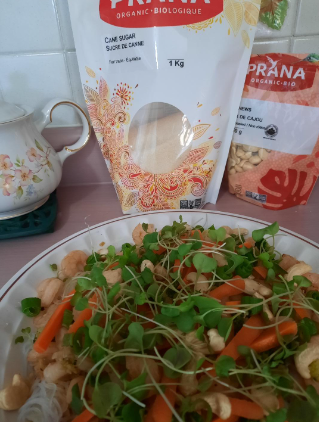 Contents and images used with permission by PRANA Organic. https://pranaorganic.ca/blogs/main-courses-recipes/vegan-pad-thai-with-tofu-and-cashews-main-course-recipe