from Sweet Potato Mania
Are you one of those people who only eat sauerkraut in a Reuben sandwich or on a hot dog? World-renowned for its full-bodied flavour, plain sauerkraut can be transformed into a wonderfully satisfying comfort food dish.
Besides having lots of flavour, fermented foods such as sauerkraut contains probiotics that help keep our digestive system healthy. They can also promote weight loss, heart health and help maintain brain function. Fermented foods are nutritious, low in calories and generally, very affordable.
For anyone who finds sauerkraut too sour, I have discovered that adding grated sweet potato tones down its acidic taste. Because plain sauerkraut has zero fat content, traditional cooks have always added bacon and/or sausages during the cooking process, giving it the robust yet gentile flavour that has made it so popular in France, Germany and internationally.
Ingredients
2 lbs/1 kg canned sauerkraut
4 strips bacon, chopped
2 cups/500 mL dry white wine
¼ tsp/1 mL caraway seeds
6-8 juniper berries (optional)
1 smoked pork hock
1 medium sweet potato, peeled and grated
6-8 frankfurters or other sausages
Method
Drain sauerkraut. Squeeze out excess moisture with a paper towel.
In a large non-corrosive saucepan, over medium heat, fry bacon for 2-3 minutes. Add sauerkraut and cook another 2-3 minutes while separating the strands with a fork. Stir in wine, caraway seeds and juniper berries, if using. Bring to a boil.
Make a well in the centre of the sauerkraut and place the pork hock in it. Cover, reduce heat to low and simmer for about 1 hour, stirring occasionally and adding a little water or white wine, as needed, to keep sauerkraut moist.
Fold sweet potato into sauerkraut. Top with sausages and simmer 30 to 40 minutes.
Cut meats into serving portions. Transfer sauerkraut to a large platter and garnish with meats. Serve with boiled or fried regular potatoes.
Makes 8 generous servings.
Nada's Tips & Tricks: This dish made my 90-year-old Slavic mother VERY happy. We were raised on sauerkraut, and it was a nice throw back to life on the farm.  I added some Dijon mustard for a little kick. Cut the sweet potato to small pieces to ensure they cook in the allotted time.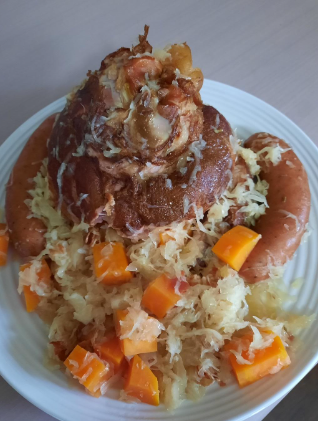 Content and images used with permission by Brita Housez, Sweet Potato Mania. https://www.facebook.com/profile.php?id=100009516870709