from Lighthearted at Home
Easy to make, this creamy soup tastes so much better than anything out of a can. I usually double this recipe, as I like large servings.
Ingredients:
8 oz mushrooms
1 tbsp soft non-hydrogenated margarine
¼ cup minced onion
2 tbsp all-purpose flour
1 cup hot chicken stock
1 ½ cups 2% milk
1 tsp dried tarragon
1/3 cup minced fresh parsley
Salt and freshly ground pepper
1 tbsp dry sherry (optional)
Directions:
Thinly slice 4 mushroom caps and set aside; coarsely chop remaining mushrooms (if using food processor, use on-off turns).
In saucepan, melt margarine over medium-high heat; add onion and cook for 2 minutes, stirring occasionally. Add chopped mushrooms and cook for 10 minutes or until golden and no liquid remains, stirring often. Sprinkle with flour and stir until mixed. Whisk in hot chicken stock and bring to a boil, whisking constantly. Reduce heat to low and add milk, tarragon, parsley and reserved sliced mushrooms; cover and simmer for 5 minutes.
Season to taste with salt and pepper. Stir in sherry (if using).
Makes 4 – ¾ cup servings.
Variation: For wild mushroom soup, break ½ cup dried porcini mushrooms into ¾ inch pieces. Pour ½ cup boiling water over mushrooms and let stand for 15 minutes. Prepare Mushroom Bisque; add porcini mushrooms and soaking liquid along with milk.
Contents used with permission by author, Anne Lindsay. http://www.annelindsay.com/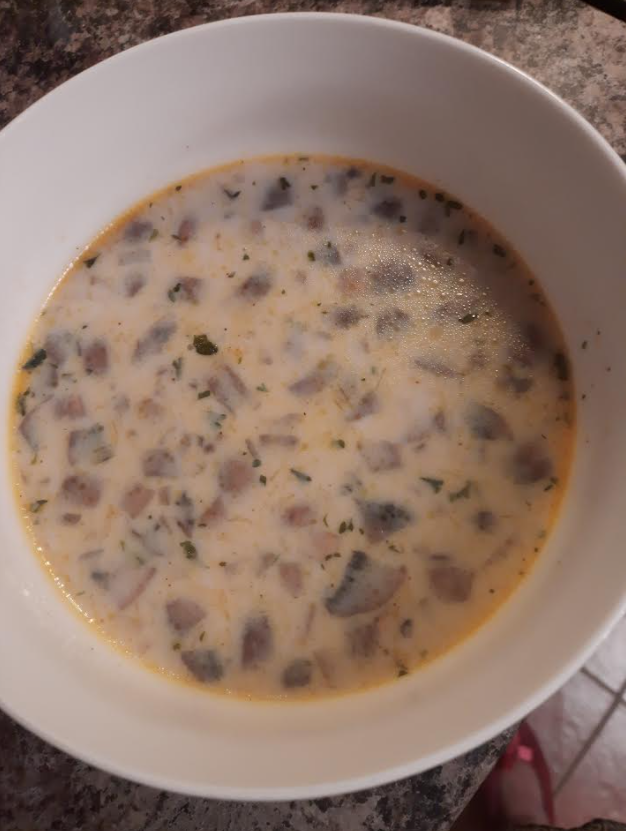 Nada's Tips & Tricks:  A very healthy and comforting soup.  I used cremini mushrooms – a little more robust and flavourful.  Use cream if you're not watching your fat content or calories.