I enjoy a glass of fruity sparkling water but find many on the market to be cloyingly sweet. Then along comes Farming Karma with their variety of fruit drinks with no added sugar or additives while still providing a fizzy beverage. https://www.farmingkarma.ca/
Coming from the fruit haven of the Okanagan Valley, Karma and Kuku Gill take the natural goodness of fruits found in the Interior BC and put authentic and pure flavours into each can. Expanding on their success, the couple have adopted a "Do Good" attitude in both their business and community. They love to hear stories of people going the extra mile and recognize the efforts of unsung heroes.
Should you find yourself in Kelowna, drop by the Farming Karma compound. You can take a tour of their production facility, enjoy some drinks in their Tasting Room, park your RV in their orchard, let your dog loose in their dog park, and record your "Do Good" initiative to be posted on YouTube in their media trailer. So much fun all in one place! https://www.farmingkarma.ca/experience/
I tried these wonderful drinks and thought you'd like some of the cocktails I whipped up using Farming Karma fruit soda. You can find both in our Recipe section. The first one is a Peachy Keen Cocktail because I love all things peachy. So refreshing and even though it may be snowing outside, you can pretend there's a warm breeze and the smell of an ocean while sipping on this quenching drink!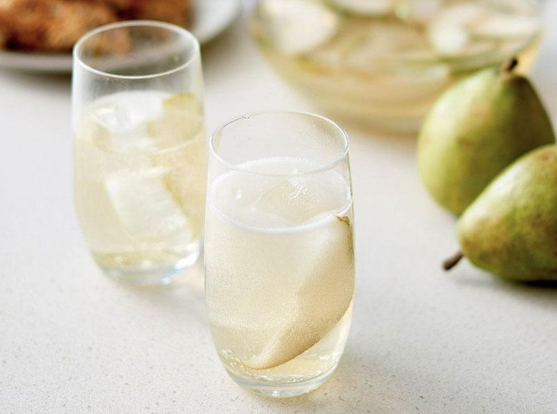 The second drink will set you up for St. Patrick's Day with a Sparkling Pear Shamrock Cocktail that will have you thinking of leprechauns and pots of gold. The noble pear takes center stage in this cocktail!
Have I whet your appetite to try some fruity fizzy drinks? You can purchase them at various locations across Canada or online at https://shop.farmingkarma.ca/ You can also try to win 2 variety packs of drinks in our Giveaway section.
Contents and images used with permission by Farming Karma Fruit Co. https://www.farmingkarma.ca/