from Mussels
This recipe is similar to Sassy Curried Mussels (see book for recipe) but with the silky sweetness of pure maple syrup, you get a real Canadian experience. Alain highly recommends using pure maple syrup here as opposed to commercial table syrup if at all possible. One of the top pieces of advice he gives is to always cook with the absolute best ingredients you can afford. It makes a world of difference.
Serves 2
Ingredients
2 lbs (1 kg mussels)
¼ cup (60 mL) white wine
¼ cup (60 mL) finely chopped shallots
¼ cup (60 mL) diced red pepper
½ cup (125 mL) maple syrup
1 tsp (5 mL) yellow curry powder
½ cup (125 mL) cream (35%)
Directions
Rinse the mussels under running fresh water. Throw away any that do not close.
In a large pot, add the mussels, wine, shallots and red pepper. Cover with a lid and cook on high for approximately 5 to 6 minutes or until steam is pouring out from under the lid.
Remove the mussels from the broth, cover and set aside.
Add the maple syrup and the yellow curry to the broth, bring to a boil and then reduce the heat and simmer for approximately 5 minutes. Add the cream and allow to reduce for another 3 to 4 minutes or until the sauce thickens and coats the back of a spoon.
Reintroduce the mussels to the pot and gently mix in with the sauce.
Serve with your favourite bread for dipping.
Nada's Tips & Tricks: You wouldn't think maple syrup would work with mussels but it was amazingly good. I would add a dash of hot sauce to balance the sweetness. Be sure to serve the mussels with the cornbread recipe in the book – I guarantee you'll be comfortingly satisfied!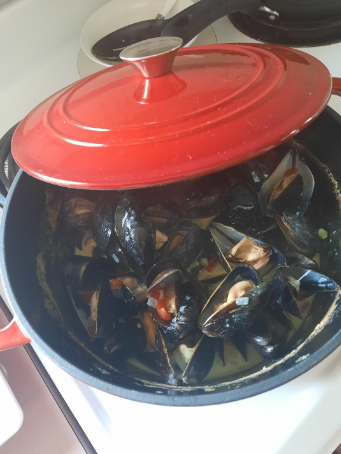 Cover image and Canadian Curried Mussels photographs printed with permission from Whitecap Books Ltd. https://www.whitecap.ca/Detail/1770502149