from Brunch Life 
The King has been a huge part of our career. Our food truck, Priscilla, and our restaurant, Lisa Marie, are entirely inspired by the Elvis busts that used to frequent our pop-up tables. Here's one more recipe dedicated to the King, it combines peanut butter, bananas, and candied bacon—but this time in beverage form!
5 strips bacon, cut into ¼-inch (5 mm) pieces
1 cup (250 mL) cold heavy (35%) cream
¼ cup (60 mL) icing sugar
½ vanilla pod
2 tablespoons (30 mL) peanut butter
1 tablespoon (15 mL) brown sugar
4 cups (1 L) French vanilla ice cream
½ cup (125 mL) 2% milk
1 ripe banana, cut into chunks
BACON, OBVIOUSLY
Heat a frying pan over high heat and cook the bacon bits until crispy. Use a slotted spoon to remove the bacon from the pan and place it on paper towels to drain.
Combine the cream and icing sugar in a large bowl. Slice the vanilla pod in half lengthwise and scrape the seeds into the cream. Beat for 5 to 6 minutes, until the cream forms soft peaks. Be sure to incorporate lots of air and this process will be quicker than you think! Set aside in the fridge until you are ready to use.
In a small saucepan over medium heat, stir the peanut butter and brown sugar until melted into a sweet syrup. Turn the heat up to high and cook, stirring, for only a few minutes—be careful not to burn it. Remove from the heat.
JUICE FIT FOR A KING
In a blender combine the ice cream, milk, and banana and blend for 1 to 2 minutes, until smooth and combined. Add additional milk if necessary to loosen the shake.
SHAKE THEM HIPS
Pour the banana shake into 2 milkshake glasses and top each with a dollop of whipped cream. Drizzle both with the peanut butter syrup and sprinkle with bacon bits. Grab a few milkshake straws and chug like the king!
Content and images used with permission by authors Matt Basile & Kyla Zanardi.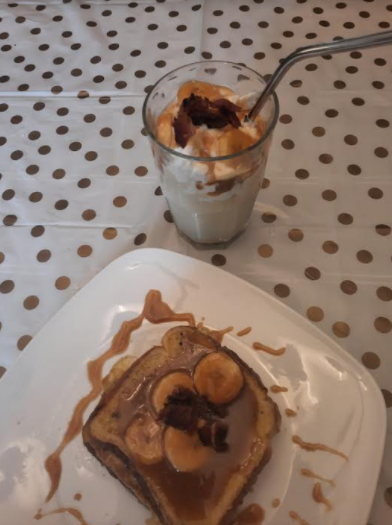 Nada's Tips & Tricks: If you don't want to spend the big bucks on a vanilla pod, use ½ teaspoon of vanilla liquid instead.  We had both the Elvis milkshake and French toast – sweetness overload.  The grandkids loved it, of course!  Shake it, Elvis!