from Abokichi (Fumi Tsukamoto)
Have you tried a latke before? It's a type of potato pancake that's part of the Jewish cuisine and traditionally prepared for Hanukkah. It's absolutely delicious and quite easy to make! We made some recently and wanted to share the recipe with you all! See below for more.
Servings: 12
Prep & Cooking time: 45 minutes – 1 hour

INGREDIENTS:
2 lbs. baking potatoes (like russet)
1 medium onion
3 eggs
1 tsp. salt
3 tbsp. matzo meal (or breadcrumbs)
Fresh ground black pepper to taste
Canola oil for frying
Chili OKAZU and sour cream (for topping)
INSTRUCTIONS:
Peel the potatoes and grate them. I used the finer side of the grating disk in my food processor. Rinse the shredded potato in a colander (to prevent browning) and transfer to a clean tea towel. Gather up the sides to the tea towel and ring out as much liquid as possible from the potatoes. This step is very important!
Using the regular blade, finely dice the onions in the food processor. If doing by hand, use a box grater, then dice to get them really fine.
In a large bowl, beat the eggs and combine salt, pepper, and matzo meal. Mix in the potatoes and onions.
Heat a large skillet with about 1cm of canola oil on medium heat. When the oil is hot, drop latke mixture into the pan using a ¼ cup measuring cup. When the bottom us golden brown (takes a few minutes), flip it over to brown the other side. Place cooked latkes on a plate with paper towel to drain a bit while cooking the rest.
Eat them hot. Traditional toppings are sour cream or apple sauce, but our new household favourite is sour cream and Chili OKAZU.
Nada's Tips & Tricks: I grew up on variations of this recipe so was happy to make it again. Getting the liquid out of the potatoes is really important so don't miss this step! And get yourself a jar of Chili Okazu – puts a whole new spin on this seasonal favourite! I served the latkes with plain sour cream and a sour cream/okazu mixture. People who like spice will love the second option!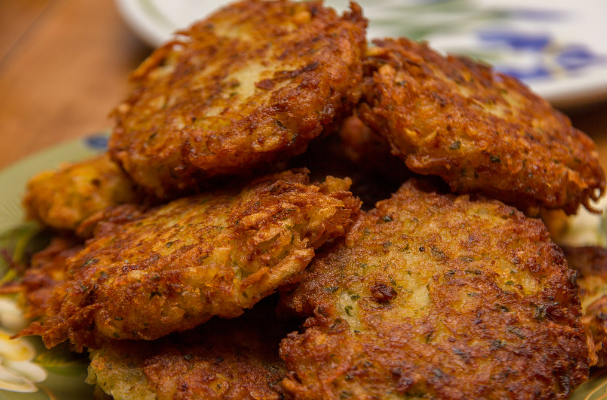 Content and images used with permission by Abokichi.
https://abokichi.ca/blogs/recipes/easy-latkes-potato-pancakes