from Today's Everyday Slow Cooker
When you're making a pot roast for a small household, either buy a large roast and cut it in half (freeze what you don't need) or look for smaller cuts of beef. The butcher will often cut one for you, if you ask. This recipe was a real hit with my parents' condo neighbours – it got a four-fork rating! Mashed potatoes are a must on the side.
Serves 2 to 3
3- to 4-quart slow cooker
Ingredients
1 boneless beef cross rib, chuck or rump roast (1 ½ to 2 lbs/750 g to 1 kg)
1 clove garlic, minced
½ tsp (2 mL) dried thyme
Salt and freshly ground black pepper
2 tsp (10 mL) vegetable oil
1 small onion, cut into thin wedges
¾ cup (175 mL) whole berry cranberry sauce
½ to 1 tsp (2 to 5 mL) finely chopped chipotle pepper in adobo sauce
Directions
Sprinkle beef with garlic, thyme and 1/8 tsp (0.5 mL) each salt and pepper.
In a large skillet, heat oil over medium-high heat. Cook beef, turning with two wooden spoons, for 7 to 10 minutes, or until browned all over. Transfer to slow cooker stoneware. Arrange onion around beef.
In a bowl, combine cranberry sauce and chipotle pepper. Pour over beef.
Cover and cook on Low for 8 to 10 hours or on High for 4 to 5 hours, until beef is fork-tender. Using a slotted spoon, transfer beef and onion to a warmed platter, cover with foil and let stand for 10 minutes.
Skim off any fat from cooking liquid. Season to taste with salt and pepper. Season to taste with salt and pepper. Pour into a gravy boat. Slice roast across the grain and serve with gravy on the side.
Tip
If the sauce is not thick enough for your liking, here is a quick way to thicken it. Transfer the cooking liquid to a small saucepan and bring it to a boil over medium-high heat. In a small bowl, combine 1 tbsp (15 mL) all-purpose flour and 1 tbsp (15 mL) softened butter; whisk into sauce and cook, stirring, until thickened. Spoon over meat when serving.
Nada's Tips & Tricks: A nice alternative to turkey this holiday season and you still get to enjoy the cranberry sauce! Loved the chipotle addition…gives the roast a little punch. A good recipe to use up leftover cranberry sauce.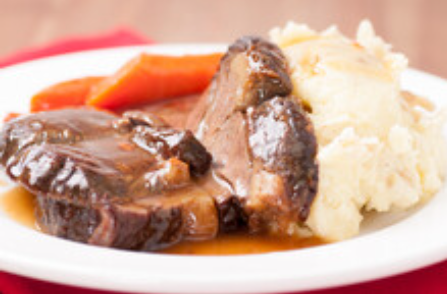 Contents and images used with permission by Robert Rose Inc.
https://robertrose.ca/catalogue/todays-everyday-slow-cooker/