from Salt Beef Buckets
I'm basing this dish on a little small plate I created in my restaurant days, which was a sake-miso-smoked-black-cod thing. That dish really only worked in theory, because the sake got absorbed and the flavour disappeared, but the miso comes through beautifully. Makes enough for 4 people This cod cake recipe uses fresh cod instead of salted.
Ingredients
2 tbsp sesame oil, plus extra for greasing
2 fresh cod fillets, deboned
Salt and pepper
1 cup mashed potatoes
1 lime, zested and juiced
1 tbsp chopped green onion
1 tbsp white miso
½ cup flour
1 egg, beaten
½ cup breadcrumbs
Directions
First, we're going to cook it on the stovetop. Lightly coat the base of a non-stick pan with 1 tablespoon of the sesame oil, then place the pan over medium heat. Pat down the cod with paper towel and then season liberally with salt and pepper. Once the pan is hot, place the cod in the pan. Cook for about 3 minutes, until it's a nice golden colour. Carefully, turn the cod over and cook for 2 to 3 more minutes depending on how thick the fish is. Once it's cooked, flake the cod into a bowl and mix in the mashed potatoes, lime zest and juice, green onion, and miso paste.
Place flour, beaten egg, and breadcrumbs each in separate bowls. Divide the potato and cod mixture into eight cakes. Dust each patty with the flour, dip it in the egg, then coat it in breadcrumbs. Heat another tablespoon of sesame oil in a large frying pan over medium heat. Fry the patties for about 5 minutes on each side.
I like to serve this with a garlic aïoli, but some people will insist on mustard pickles.
Nada's Tips & Tricks: I love seafood cakes of all kinds and this one puts a little lighter and zestier spin on it. Along with a nice salad, you have the perfect summer lunch!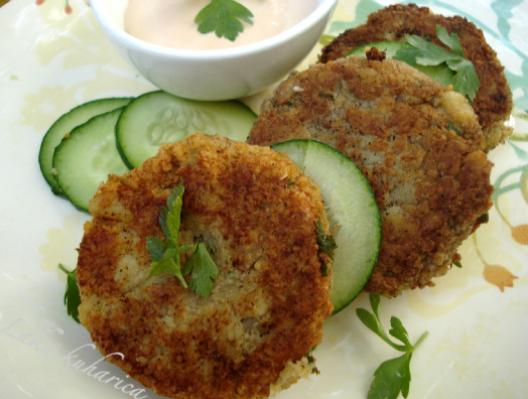 Contents and images used with permission by Breakwater Books. https://breakwaterbooks.com/collections/tax-override-manual/products/salt-beef-buckets?_pos=1&_sid=86120d969&_ss=r