As an avid traveler and self-proclaimed foodie, I've had the pleasure of exploring numerous countries and sampling their culinary delights. However, there's one place that holds a special place in my heart – old Quebec City. And when it comes to unraveling the rich tapestry of flavors that Quebec has to offer, there's no better guide than Julian Armstrong, the author of "Made in Quebec." https://www.julianarmstrong.com/
This culinary masterpiece takes you on a delectable journey across the province, revealing the hidden treasures and mouthwatering recipes that make Quebec's food scene so vibrant. Divided by seasons, the book ensures that you're cooking with the freshest ingredients available in your local markets, capturing the essence of Quebec's culinary heritage.
What sets "Made in Quebec" apart are the captivating stories woven throughout its pages. Julian Armstrong delves into the world of the dedicated producers, like Chef Daniel Gasse and his tantalizing smoked salmon enterprise along the Gaspe Peninsula. The description of the picturesque drive peppered with charming coastal villages, brimming with seafood and culinary artisans, makes you want to embark on a culinary road trip. https://www.tourisme-gaspesie.com/en/home.html
While cities like Montreal and Quebec City boast thriving food scenes, "Made in Quebec" steers you off the beaten path. It leads you to the heart of Quebec's food culture, where you'll discover the succulent Gaspor Pork, indulge in regional sips from local wineries, savor the finest venison from Canada's largest deer farm, and experience the heritage of centuries-old breweries.
Maple syrup, cheese, seafood, bagels, and berries are just a few of the culinary wonders that Quebec has to offer. Julian Armstrong skillfully brings these ingredients to life, providing fascinating backstories and shedding light on the people and places behind the scenes. She highlights the talented chefs and enchanting restaurants that showcase the very best of local fare.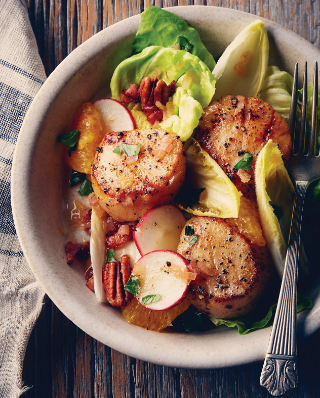 Intrigued by Julian's expertise, I decided to try one of her recipes – the Warm Endive Scallop Salad. It was a culinary revelation, seamlessly blending the freshness of salads with the succulence of seafood. Each bite transported me back to the charming streets of Quebec, evoking a symphony of flavors that danced on my palate. Check it out and make it yourself in our Recipe section.
Whether you're planning a gastronomic adventure across Quebec or simply seeking to explore the diverse culinary traditions within the comfort of your own kitchen, "Made in Quebec" is an indispensable companion. It captures the essence of Quebec's food culture, celebrating its distinct flavors, and offers a tantalizing glimpse into the richness of the province's culinary landscape.
To embark on your own culinary odyssey, I highly recommend grabbing a copy of "Made in Quebec" at https://www.harpercollins.ca/9781443425315/made-in-quebec/ or trying your luck in the Giveaway section. 
For more inspiration and information on planning the ultimate foodie road trip in Quebec, visit https://www.bonjourquebec.com/en-ca/to-see-and-do/delicious-discoveries. Prepare to ignite your taste buds, hit the road, and indulge in the gastronomic wonders that await you throughout Quebec. Bon appétit!
Contents and images from Made in Quebec: A Culinary Journey by Julian Armstrong ©2014. Photography by Ryan Szulc. Published by HarperCollins Publishers Ltd. All rights reserved. https://www.harpercollins.ca/9781443425315/made-in-quebec/