We're travelling to Newfoundland this week with author Amanda Dorothy Jean Bulman, chef, writer, stand-up comic and librarian. Salt Beef Buckets is a delightful culinary journey that immerses readers in the rich food heritage of Newfoundland and Labrador. With a focus on the iconic salt beef, this book celebrates the traditional recipes, stories, and cultural significance associated with this beloved ingredient.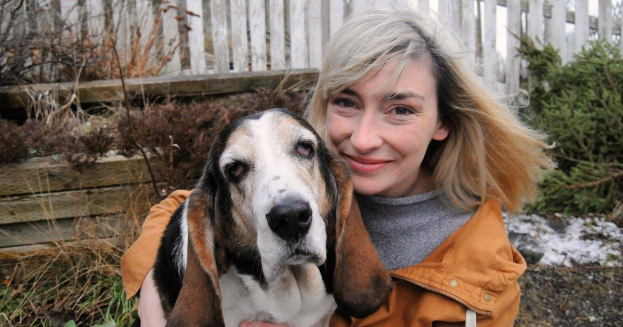 The book shines in its exploration of the historical roots of salt beef and its enduring place in the culinary traditions of Newfoundland and Labrador. Bulman masterfully weaves together personal anecdotes, regional lore, and in-depth research to provide a comprehensive understanding of how salt beef has shaped the region's cuisine and identity. Readers are treated to a captivating narrative that not only showcases the culinary aspect but also delves into the social and economic factors that influenced the popularity of salt beef.
The recipes included in Salt Beef Buckets are a highlight of the book. From classic dishes like Jiggs' Dinner and Pea Soup to lesser-known gems such as Old School Lassy Buns and Salt Beef Chowder, the author presents a diverse range of mouthwatering creations that reflect the province's culinary heritage. The recipes are accompanied by clear instructions, tips, and variations, making them accessible to both experienced cooks and novices looking to explore traditional Newfoundland and Labrador cuisine.
I love seafood cakes with a great salad and a glass of Pinot Grigio – the perfect summer lunch. Amanda provides an updated fusion spin with Cod Cakes with Sesame, Lime & Miso in our Recipe section – a fresh, light and zesty variation on the classic. 
What sets this book apart is its nostalgic and heartfelt tone. Bulman's genuine passion for the subject matter shines through her writing, creating a connection with readers as they journey through the pages. Her personal stories and reminiscences add an intimate touch, evoking a sense of warmth and authenticity that makes the book feel like a cherished family heirloom.
In terms of presentation, Salt Beef Buckets is visually appealing, with vibrant photographs showcasing the rustic beauty of Newfoundland and Labrador, as well as mouthwatering images of the featured dishes. The layout and design of the book are pleasing to the eye, allowing for easy navigation between recipes, stories, and historical tidbits.
If this book inspires you to travel to Newfoundland and Labrador, check out https://www.newfoundlandlabrador.com/things-to-do/food-and-dining and add an amazing foodie experience to your bucket list. Pick up Salt Beef Buckets to ignite a passion for the island's cuisine at https://breakwaterbooks.com/collections/tax-override-manual/products/salt-beef-buckets?_pos=1&_sid=86120d969&_ss=r or win a copy in our Giveaway section.
Contents and images used with permission by Breakwater Books. https://breakwaterbooks.com/collections/tax-override-manual/products/salt-beef-buckets?_pos=1&_sid=86120d969&_ss=r