To assist you on making this delectable treat, Bonita provides this step-by-step video for the best pie ever…
Makes one 9-inch pie
1/2 cup butter
3/4 cup white sugar 
1 cup evaporated milk
3 large eggs 
1 tsp vanilla
2 tbsp all-purpose white flour
11/4 cups unsweetened shredded coconut
Pinch sea salt
Preheat oven to 350ºF.
Cream the butter and sugar. Add the milk, eggs, vanilla, and flour. Mix by wooden spoon, hand mixer, or stand mixer.
Fold in the coconut.
Pour the mixture into the unbaked pie crust. Bake for 45 to 50 min utes or until golden brown. Poke a toothpick in the pie; if it comes out clean, it is ready.
Remove from the oven and let cool.
Unbaked pie crust
(recipe below) 
Cream
500 ml whipping cream 1/4 cup icing sugar
1 tsp vanilla
To serve
1 cup unsweetened shredded coconut
Makes 2 crusts
1/2 cup cold butter
2 cups all-purpose white or whole wheat flour
1/2 tsp sea salt
1/2 cup cold water
BONITA'S TIPS
If you are only using one pie crust, roll the other out on parchment paper, cover with plastic wrap, then roll into a cylinder. Freeze until needed.
In a cold bowl, whip the cream with the icing sugar and salt using a hand mixer until fluffy. Spread over the top of the cooled pie.
Toast the 1 cup unsweetened coconut in a frying pan on medium heat until golden brown. Sprinkle over the pie before serving.
9-INCH PIE CRUST
Preheat oven to 350ºF.
Cut the butter into small cubes. Mix the flour, butter, and sea salt in a bowl by hand or using a food processor. Add the water and contin ue to mix just until the dough shapes into a ball.
Place parchment paper on the counter and sprinkle with additional flour. Cut the dough in half. Roll out half on the parchment paper. Place in a pie dish.
Boulder Books hereby provides permission to feature Bonita's Kitchen content and images. https://boulderbooks.ca/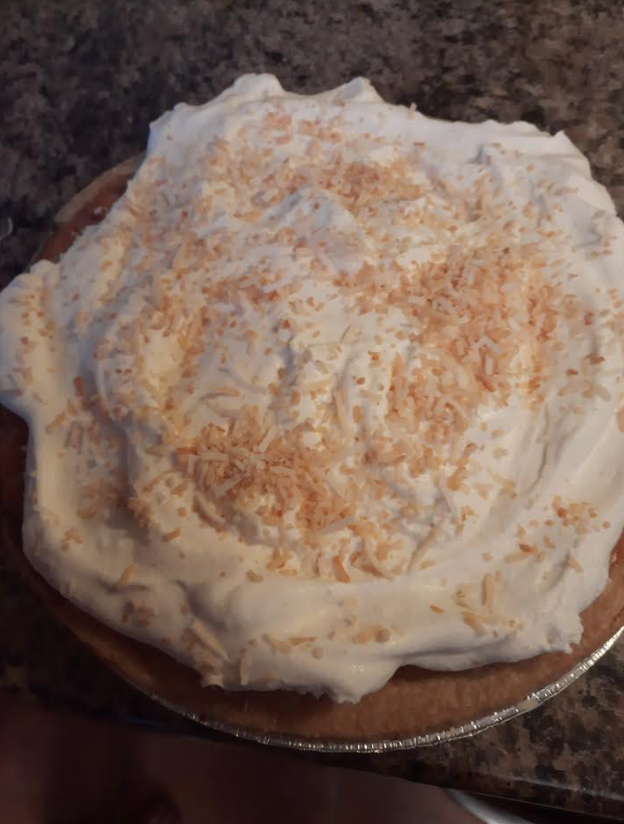 Nada's Tips & Tricks: This pie was delicious…we made real whipped cream but bought the pie crust…get the deep dish one if buying the crust. The recipe makes a lot of filling and the regular crust came close to overflowing.