https://www.bonitaskitchen.com/
A book that emerged from the ashes of the pandemic is Bonita's Kitchen: A Little Taste of Home…featuring breads and sweets that are the ultimate comfort food. Because the kitchen was central to the Hussey home, the pandemic didn't affect Bonita and Ray's home, but it did affect their sons, friends and relatives. The outcome was this delightful book coming from Bonita's heart – she told me her happy time is kneading bread and putting a warm loaf on the dinner table. People are now asking for another cookbook with Newfoundland favourites and keeping the Newfoundland culinary culture alive. Bonita's favourite? Jiggs Dinner! Check out her CBC radio chat on making this traditional Newfoundland food: https://www.cbc.ca/player/play/2695967792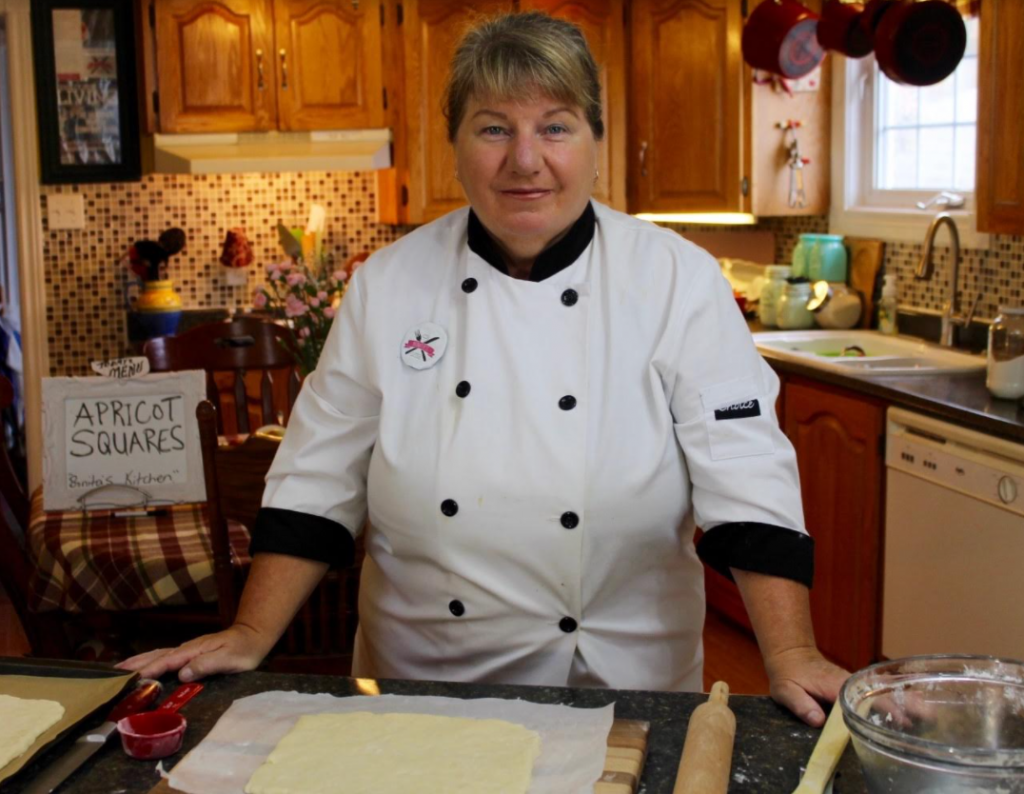 This cookbook is the love child of the Hussey family cooking project.  We celebrate its first anniversary this October with giving a copy away in our Giveaway section.  After retirement in 2014, Bonita and Ray started making videos of Bonita's cooking and developing over 300 recipes (along with a video for each!) and began putting them on YouTube.  Now with both their boys involved, their kitchen business has produced over 4 million views and 60K+ subscribers…I would say Bonita and family are Canada's video celebrities! We tried the Coconut Cream Pie – see the Recipe section – and we've included Bonita's video to show how to make the pie step-by-step.
Add to that, guest spots on CBC Newfoundland and Labrador, and Eastlink Community Television, and Bonita's face is now familiar in Newfoundland kitchens.  https://www.cbc.ca/news/canada/newfoundland-labrador/bonitas-kitchen-1.3467561 
Being raised in Upper Island Cove and now living in Spaniard's Bay, Bonita tried to figure out recipes handed down from her mom, compiling them into her first cookbook – "Bonita's Kitchen: Traditional Newfoundland Cooking & Recipes" (Self-published, 2017).  Now, in response to the success of her previous cookbooks, videos and social media, Bonita is working on a third cookbook…can't wait to see it!
To purchase your own copy of Bonita's Kitchen: A Little Taste of Home, go to https://boulderbooks.ca/product/bonitas-kitchen-a-little-taste-of-home/
And what goes better with baking but a fresh pot of tea – check out Genuine Tea in our Canadians + Food section.
Boulder Books hereby provides permission to feature Bonita's Kitchen content and images. https://boulderbooks.ca/