from Food Culture Place
Ingredients:
4 onions, peeled halved and thinly sliced
2 cups fresh chanterelles, quartered
2 tbsp olive oil
2 garlic cloves, minced
1 tbsp fresh oregano
½ cup Newman's port
1 cup vegetable stock
1 tsp salt
1 tbsp sugar
Directions:
Heat the olive oil in a large frying pan over moderate heat. Add the onions, chanterelles, garlic, and oregano. Fry 5 to 8 minutes until the onions are softened. Add the port and let it sizzle for a few moments before adding the stock, salt and sugar. Bring to a simmer and reduce the heat to low.
Cook for 1 hour uncovered, stirring regularly. Add water if required to maintain a creamy consistency.
After 1 hour, turn up the heat and cook off any remaining liquid. Remove from the heat and cool completely. Store in a Mason jar in the refrigerator.
Contents and images used with permission by authors Lori McCarthy & Marsha Tulk, and publisher Boulder Books.  https://boulderbooks.ca/product/food-culture-place-stories-traditions-and-recipes-of-newfoundland/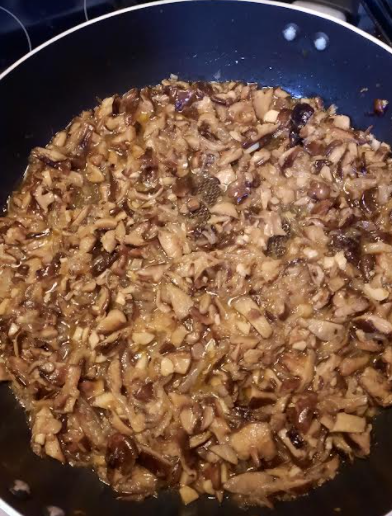 Nada's Tips & Tricks: You can use any mushroom you like.  I used this jam in so many dishes – it was a treasure to have in the refrigerator waiting for the next creative twist on a dish…spruced up some sauces, slathered it on pork tenderloin, added it to mashed potatoes…yum!