from Food Artisans of Alberta
An instant-read thermometer guarantees you'll get this right. And, when using the cedar plank, you may need to turn it half-way through cooking so that the roast cooks evenly.
Time: 3 hours (including resting before and after cooking)
Yield: 8 servings
Ingredients:
For the roast:
1-5 lbs prime rib roast with bones attached
1 large cedar plank, soaked overnight in water
4-5 (5-inch) whole rosemary branches
For the coating:
½ cup grainy mustard
1 Tablespoon canola oil
1 Tablespoon finely diced shallots
1 teaspoon finely cut fresh rosemary
1 teaspoon finely cut fresh dill
1 teaspoon minced garlic
1 teaspoon freshly ground black pepper
½ teaspoon coarsely ground salt
Directions
Remove the roast from the refrigerator and bring it to room temperature (this takes about an hour and results in more even cooking).
Preheat your gas grill on medium-high until the temperature is about 500F.
Remove the cedar plank from the water and pat it dry with a cloth.
Lay the rosemary branches across the cedar plank and set the roast on them.
Mix the coating ingredients in a bowl and then apply mixture to the surface of the roast.
Place the plank on one side of your gas grill and turn the burner off on that side. Cook the roast with the indirect heat of the other burner for about 1 ½ to 2 hours or until the internal temperature reads 125-135F.
Remove the roast and place on a rack. Tent it loosely with foil and let it rest for 20-30 minutes before carving.

Nada's Tips & Tricks: We've been conditioned to think that cedar planks are just for grilling salmon but this recipe dispels that myth. My carnivore son-in-law (from Alberta!) loved this method and end result.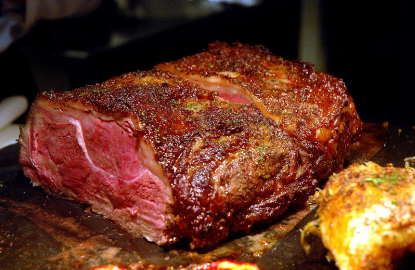 Excerpted from Food Artisans of Alberta by Karen Anderson and Matilde Sanchez-Turri. Copyright © 202018 by Karen Anderson and Matilde Sanchez-Turri. Reprinted with permission of TouchWood Editions. https://www.touchwoodeditions.com/book/food-artisans-of-alberta/