When thinking of an epicenter of Indian cuisine, Calgary is not one of the places that immediately springs to mind. And that's too bad, because according to Trip Advisor there are 131 East Indian/South Asian restaurants in that city. And who would know this better than Alberta's Food Tour operator and co-author of A Spicy Touch, Karen Anderson.
Karen collaborated with her mentor and chef, Noorbanu Nimji, to educate us on the world of Indian cuisine in A Spicy Touch. Sadly, Noorbanu passed away in 2020 and Karen pays a heartfelt tribute to a very special lady – https://savouritall.com/2020/09/03/a-tribute-to-noorbanu-nimji/ We're so happy that Karen and Noorbanu could harness all the wisdom and knowledge of Indian cooking in this book for us to appreciate the nuance and depth of flavours of a popular, yet mystical, cuisine.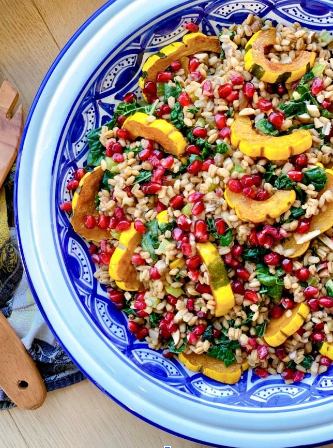 The book begins by educating us on the intricate world of spices and recipes for blends that are integral to producing the most authentic flavours. Then we delve into pantry and refrigerated products as well as equipment necessary for an Indian kitchen.
For those of us who live far from urban centers without specialized grocers carrying many of the products…here's a tip. Feel confident in your skills to substitute ingredients, like dry mustard for mustard seeds. Authentic? Nope, but close enough to get the flavour profile you want. Secondly, whenever I go into the "big city" I add a trip to specialty markets to stock up on products I can't find in the country. These usually last me until the next trip and it's always good to have a running list so you're not scratching your head at the last minute.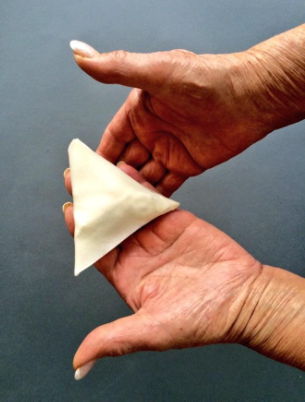 There's a whole chapter dedicated to samosas in this book. This thrilled me as it brought back memories of organizing Calgary's Red FM (South Asian) radiothon on behalf of the Peter Lougheed Centre. With thousands of people showing up at the radio station (and donating almost $1 million in 10 hours for the Guru Nanak NICU wing), local restaurants set up a samosa tent outside the station with the most divine morsels of goodness one could ever taste.
This book brings you more than samosas though. My second favourite category is the chutney section – I love this condiment and am always on the hunt for new and different variations…A Spicy Touch satisfies that tasty itch!  Of course, we also have the appetizers, meat, vegetables and dessert sections that are packed with so many recipes, both the beginner and more seasoned cook, will find something to make and enjoy.
Its barbecue season and I'm always looking for unique sides to go with the proverbial steak and hamburger.  I found one in A Spicy Touch that goes particularly well with any protein…Spicy Potatoes and Bell Peppers.  Look for it in our Recipe section and let me know what you think.
Win a copy of this book in our Giveaway section or purchase the cookbook at https://savouritall.com/about-2/ And while you're there, check out Karen's other book, Food Artisans of Alberta…we feature it in our Canadians + Food tab as we continue to explore culinary travel in Canada.

Content and images used with permission by Karen Anderson and Noorbanu Nimji, from A Spicy Touch, copyright © 2020 by Karen Anderson and Noorbanu Nimji. Reprinted with permission of TouchWood Editions.  https://www.touchwoodeditions.com/book/a-spicy-touch/