from A Spicy Touch
These are a great accompaniment to any dish and Noorbanu enjoyed them with Meat Cutlets and a green salad.
Time: 30-40 minutes
Yield: 6 servings
Gluten free & Vegetarian
Ingredients
2 lbs potatoes
2 teaspoons olive oil
½ teaspoon black mustard seeds
½ teaspoon cumin seeds
1 teaspoon garlic paste
1 teaspoon ginger paste
¼ teaspoon green chili paste, or to taste
½ teaspoon ground cumin
½ teaspoon ground coriander
¼ teaspoon turmeric
1 teaspoon paprika
¾ teaspoon salt
¼ teaspoon black peppercorns, coarsely ground
½ cup green bell pepper, cut into strips
½ cup red bell pepper, cut into strips
1 Tablespoon lemon juice
1 Tablespoon finely cut coriander leaves
Directions
Peel and cut potatoes into bite-size cubes and then boil them in salted water until cooked. Drain.
Heat the olive oil in a saucepan, add the mustard and cumin seeds, garlic, ginger, and chili pastes and cook covered for 1 minute.
Stir in the ground cumin and coriander, turmeric, paprika, salt and black pepper, and cook for 1 minute. Add a little water if needed.
Add the bell peppers and stir for 2 minutes.
Add the potatoes, lemon juice and coriander leaves and mix well.
Enjoy with any barbecued meats or as a savoury accompaniment to any other dish.
Variation: Spicy Smashed Potatoes
Bake 2 lbs of baby potatoes (skins on) at 375F for 30 minutes after coating them with olive oil.
Smash them when you remove from the oven.
Follow the rest of the above recipe.
Nada's Tips & Tricks: I made the smashed variation with some adjustments. Didn't have the seeds or the pastes so used powder. And I combined all the spices with the olive oil and tossed the potatoes with it. When the potatoes were mostly ready, I smashed them and added the peppers and lemon juice (served the coriander leaves on the side for those who like it) and continued roasting until both vegetables were tender. The spice combination makes this dish the perfect side to your next barbecued meat. Tried this recipe twice…the second time, I parboiled the potatoes before roasting them with the peppers – the end result was very mushy and didn't have a great look to them. Stick to roasting!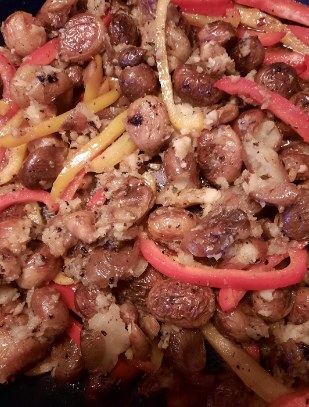 Recipe by Karen Anderson and Noorbanu Nimji, from A Spicy Touch, copyright © 2020 by Karen Anderson and Noorbanu Nimji. Reprinted with permission of TouchWood Editions https://www.touchwoodeditions.com/book/a-spicy-touch/