rom Scenic Nova Scotia Cookbook
This creamy sauce will satisfy both sole and soul. Adding a pinch of mustard to cheese sauces brings out the flavour of the cheese.
Serves 6-8
Ingredients
2 lbs (1 kg) of de-boned sole or haddock fillets
10 oz (300 g) fresh spinach, cooked and drained well
1 medium-sized onion, chopped finely
½ teaspoon (2.5 ml) each salt and freshly ground black pepper
For the sauce:
4 tablespoons (60 ml) butter
4 tablespoons (60 ml) flour
2 cups (500 ml) milk
¼ to ½ teaspoon (1-2.5 ml) dry mustard
1 teaspoon (5 ml) coarse salt
1/8 teaspoon (.5 ml) freshly ground black pepper
¼ cup (60 ml) grated sharp Cheddar cheese
Directions:
To make the sauce: melt the butter in a small saucepan over a medium-low heat. Add the flour. Cook for a few minutes, stirring constantly. Gradually add the milk, stirring constantly. Season with the dry mustard, salt and pepper. Stir in the grated cheese. Cook over a gentle heat for about 10 minutes more – until the sauce is smooth and thickened.
Meanwhile, generously butter a baking dish. Preheat the oven to 425F (220C). Arrange half the fish fillets in the buttered dish, and cover with all the cooked spinach. Scatter the chopped onion over top. Season with salt and pepper. Cover with the remaining fish. Pour the sauce evenly over top. Bake for 20-30 minutes, uncovered, until the fish is opaque and flakes easily when prodded with a fork. Serve at once.
Used with permission by Sherman Hines Photography.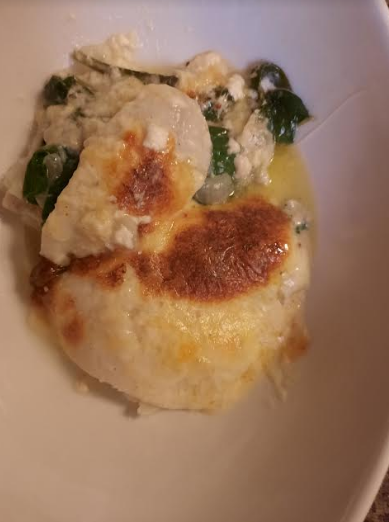 Nada's Tips & Tricks: I found the end result to be a little runny – make sure your sauce has thickened up as the fish has a lot of liquid as well.  I used a tex-mex cheese blend to spice up the sauce.  Family loved it – no leftovers!