from 30-Minute Low-Carb Dinners
This antipasto brings all the things you love about a charcuterie board and incorporates it in a low-carb version of a hearty salad with the addition of crispy bacon. It's healthy, fresh and so quick to put together. Make it after a long day at work or when you get back from the gym.
Serves 4 Salads
Ingredients:
5 cups (275 g) chopped butter lettuce
10 cooked bacon strips, chopped
½ cup (66 g) cubed aged Cheddar
½ cup (56 g) cubed mozzarella
½ cup (27 g) sugar-free sun-dried tomatoes, sliced
¼ cup (40 g) sliced black olives
¼ cup (10 g) chopped fresh basil
Olive Oil and White Wine Dressing
⅓ cup (80 ml) extra virgin olive oil
2 tbsp (30 ml) white wine vinegar
1 small shallot, minced
½ tsp maple Dijon mustard
Kosher salt and ground black pepper
Directions:
To make the salad, add the lettuce, bacon, Cheddar, mozzarella, sun-dried tomatoes, olives and basil to a large bowl.
To make the dressing: In a food processor or a dressing shaker, combine the oil, vinegar, shallot, mustard and salt and pepper to taste. Pour the dressing over the salad and toss until coated.
You're ready to eat!

Nada's Tips & Tricks: Anyone that knows me, knows that I'm a huge salad aficionado and this one does not disappoint.  Even the carnivores around the table gobbled it up when I served it with quiche for brunch.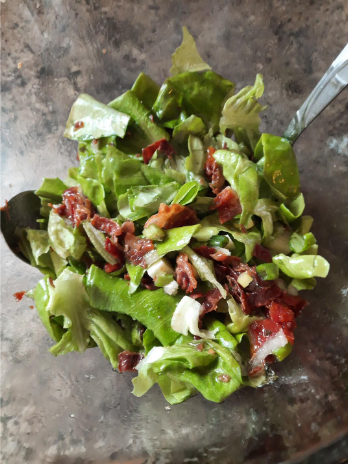 Reprinted with permission from 30-Minute Low-Carb Dinners by Valerie Azinge. Page Street Publishing Co. 2020. Photo credit: Valerie Azinge, Yasaman Shafiei and Kabir Ali. https://www.mydigitalkitchen.ca/