from Eat Delicious
The first time I traveled to Paris I lost my food mind. Literally. Like, it might still be there, livin' it up in the French countryside, eating fresh baguettes, Camembert, and a glass (or five) of cabernet. The flavors of that beautiful country forever changed how I understand both food and dining itself, as I was exposed to folks who truly live to eat and invest in taking the time to slow down and savor the joie de vivre that we so desperately need in our daily lives. You're an inspiration, France!
We visited in July, and it seemed as if the combination of strawberries and pistachios had taken over the culinary landscape. While eating an almost rapturous dessert, care of the amazing Pierre Hermé, atop Montmartre at the steps of Sacré-Coeur, I dreamed up this recipe. The views and dessert were some of the most inspiring of my life!
Makes 4-6 servings
Ingredients:
SALAD
2 broccoli heads, tops cut into florets and stems trimmed (and saved for another recipe, such as a stir-fry or pasta sauce)
1/4 cup finely diced red onion
3 cups strawberries, hulled and halved
1/4 cup lightly salted pistachios
1/4 cup fresh basil leaves, cut into chiffonade
2 cups pea shoots or your favorite sprouts
5 thick-cut smoked bacon slices
1 1/2 tablespoons pure maple syrup
LEMON VINAIGRETTE
2 teaspoons Dijon mustard
6 tablespoons fresh lemon juice
3 tablespoons honey
3/4 cup extra-virgin olive oil
1/4 teaspoon sea salt
1/4 teaspoon freshly cracked black pepper
Directions:
1. Preheat the oven to 350°F. Line a baking sheet with parchment paper.
2. Spread the bacon on the baking sheet and baste each slice with the maple syrup. Bake for 25 to 30 minutes, turning halfway through, or until golden brown and starting to crisp. Transfer the bacon to a rack to cool. Candied bacon is just around the corner.
3. Make the vinaigrette: In a medium bowl, combine the Dijon, lemon juice, and honey. Whisking continuously, slowly drizzle in the olive oil until emulsified and thickened (see note below). Season with the salt and pepper and give the vinaigrette a final whisk.
4. Make the salad: In a large bowl, toss the broccoli, onion, strawberries, pistachios, basil, and half the vinaigrette.
5. Cut the candied bacon into 1/2-inch pieces. Line the bottom of a serving dish with the pea shoots, then top with the bacon and salad. Serve with the remaining vinaigrette.
Emulsifying means binding liquids together that don't usually like to hang out, like oil or eggs with water or broth. This is achieved by adding the oil in a slow and steady stream to the mixture while you whisk continuously. Mustard and eggs function as rock-star natural emulsifiers in dressings and sauces.
Nada's Tips & Tricks: Invite your besties over, open up a bottle of Riesling and have an amazing salad that looks divine, tastes amazing and will have you serving it at all your summer patio parties. Delicious!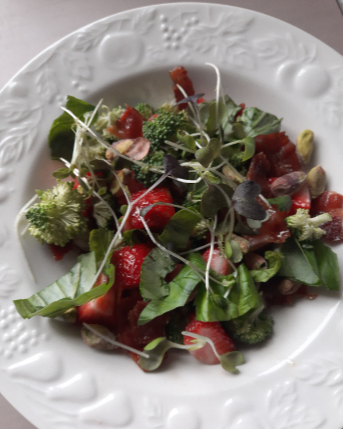 Recipe from Eat Delicious: 125 Recipes For Your Daily Dose of Awesome by Dennis Prescott © 2017. Published by HarperCollins Publishers Ltd. All rights reserved. https://www.harpercollins.ca/9781443449878/eat-delicious/