from Our Little Kitchen
A versatile recipe to use up all the bits and pieces in your fridge. Let your child's imagination turn this into a meal of great delight!
Ingredients:
Oil or butter
Onions
Garlic
Thyme sprigs
Bay leaf
Vegetables (see below)
Water or stock
Directions:
Step 1
Heat oil or butter in large pot.
Step 2
Cook onions and garlic until translucent. Add fresh thyme and a bay leaf.
Step 3
Choose a vegetable or two or three that go together. Need ideas? Corn, squash, parsnip, leek, cauliflower, sweet potato, carrots.
Step 4
Chop vegetables and add to pot.
Step 5
Add water or stock to cover vegetables.
Step 6
Bring to boil, then reduce to simmer.
Step 7
Remove bay leaf and thyme sprigs. Mash or blend. Season.

Reproduced with permission from Groundwood Books Ltd. All rights reserved.  https://houseofanansi.com/search?type=product&q=Jillian+Tamaki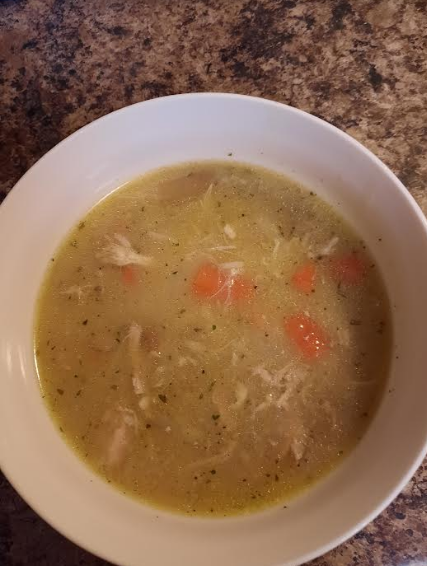 Nada's Tips & Tricks: We added leftover roasted chicken and rice to our soup and used chicken stock. This is a great recipe to give you confidence in the kitchen as the ingredients are up to you. Pair it with a sandwich or salad and you've got a full meal. Hearty bowl on a cold February day!