from The Science and Spirit of Seaweed
Chef Mat Clarke of End Dive, Victoria BC provided this recipe.
Yield: 2 large salads
Ingredients
Salad
6 new potatoes
12 green beans
1 cup (250 mL) dried winged kelp, soaked until soft
1 shallot
2 heirloom tomatoes
A couple handfuls of local salad greens, torn
Dressing
1 Tbsp (15 mL) fresh lemon juice
3 Tbsp (45 mL) apple cider vinegar
3 Tbsp (45 mL) capers
3 Tbsp (45 mL) sunflower seeds
1 Tbsp (15 mL) turbinado sugar
3 sun-dried tomatoes
Pinch of salt
Pinch of black pepper
1 cup (250 mL) extra-virgin olive oil
1/4 cup (60 mL) dried winged kelp, soaked until soft
1/4 cup (60 mL) fresh parsley
1/8 cup (30 mL) fresh dill
Optional
Dulse flakes
Sprouts of choice
1/4 avocado
1 hard-boiled egg
Seared albacore tuna
Directions
Create an ice bath by placing ice cubes and cold water in a sink or large bowl.
Place the potatoes in a medium pot of salted cold water and bring to a boil over high heat. Boil at high heat for about 5 minutes, or until you can poke a fork easily through them.
Add the green beans and allow water to return to a boil, then use a slotted spoon to strain the potatoes into a medium bowl with a splash of apple cider vinegar.
Strain the beans and place them in the ice bath.
Prepare the remaining salad ingredients: Thinly slice the kelp and toss it in with the potatoes. Shave the shallot as thin as possible. Cut the tomato in quarters and season with sea salt and black pepper.
For the dressing: Place the lemon juice, apple cider vinegar, capers, sunflower seeds, sugar, sun-dried tomatoes, salt and pepper in a blender and blend until smooth. With the blender running at a low speed, slowly add the olive oil until combined. Add the kelp and herbs and pulse a couple of times, until combined but maintaining some texture.
Toss the greens with dressing to taste. (Save leftover dressing for other uses.) Place remaining ingredients on and around the greens on two plates and garnish with dulse flakes (if using).
Nada's Tips & Tricks: Looking to impress your guests this holiday season? This is a great full meal – with a glass of Riesling – and the people around the table will enjoy the many layers of flavours.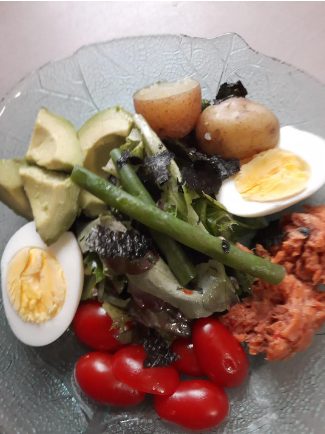 Used with permission by Harbour Publishing https://harbourpublishing.com/products/9781550179613 and Amanda Swinimer https://www.dakinitidalwilds.com/ and Chef Mat Clarke https://www.instagram.com/end.dive/