from A Feast for Joseph
Ingredients
3 lbs skinless chicken thighs
1/2 cup green seasoning (See notes)
1/2 tsp cumin
1/2 tsp curry powder
1 tsp salt
1 tsp pepper
For curry
1 onion, chopped
1/8 cup garlic, chopped
1 jalapeño, chopped
1 whole habanaro
4 Tbsp curry powder
1 tsp cumin powder
1/2 tsp turmeric
1/2 tsp garam masala powder
3 Tbsp green seasoning
3-4 Tbsp oil
2 potatoes, cut into cubes
Salt to taste
Instructions
Mix the chicken with all the marination ingredients and marinate for a couple of hours to overnight.
Mix curry powder, cumin, turmeric and garam masala powder in a bowl.
Heat oil over medium high heat and stir in onion, garlic and jalapeño and sauté till onion gets soft and starts getting golden brown. Add in mixed spices and stir continuously for a couple of minutes. Add in 1/4 cup of water and make a slurry and cook the curry till it thickens up.
Add in marinated chicken. Mix well and cook covered for ten minutes, the chicken will start to cook in its own juices. Stir and cook for an additional 5-8 minutes. Add two and half cups water along with potatoes, whole uncut habanero, salt, green seasoning and cook covered till the chicken is fall off the bone tender. Depending on how much sauce you want, feel free to add more water.
Notes
You can make a quick green seasoning by blending scallion + garlic + ginger + cilantro+ culantro + parsley + thyme + bell peppers + cubanelle peppers + hot peppers + lemon juice in your blender. If you don't have access to some of the ingredients for the seasoning, it still turns out great with few of the above-mentioned ingredients.
You can adjust the consistency of the sauce in your curry chicken by adding more or less water. Some like it dry, some prefer saucy.
Serve with your favorite rice or roti or naan.
Used with permission by Gypsy Plate https://gypsyplate.com/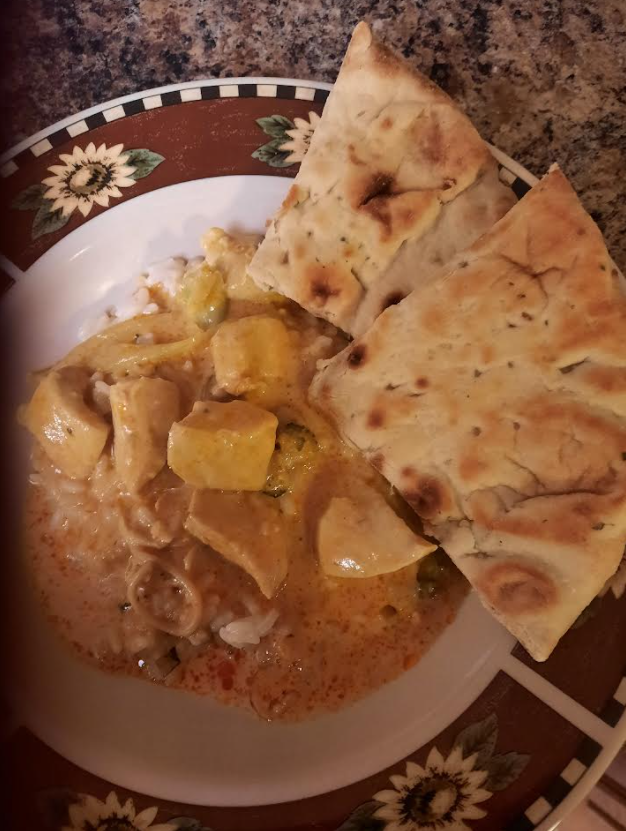 Nada's Tips & Tricks: Don't be intimidated by the ingredients in this dish.  Living in the country and having access to fresh food and spices in a small town grocer is challenging.  So substitute for what works for you!  I used the leftover stir-fry vegetables from the night before and scaled back on the heat ingredients to suit the family's palates.  I prefer my food a little spicier so I think a trip to Fort Pierce, Florida to meet with Alpana of Gypsy Plate is on my bucket list!