This week, we explore the life of a Canadian illustrator through the book "A Feast for Joseph." Ken Daly brings his rich Caribbean heritage to books, music, art, and television…check him out at https://www.kendaleyart.com/
Ken's parents emigrated from Dominica, West Indies and Ken was born in Cambridge, Ontario. From there, Ken's studies took him to the Art Centre of Central Technical School (honorary graduate) and then Humber College where he studied architectural technology.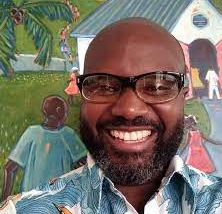 Ken's art draws you into the subject in an authentic way. This can be seen in his illustrations for "A Feast for Joseph". For ages 3-6, this story reflects the homesick feelings of many immigrant children. Ken takes you on the journey of Joseph through his eyes and expressions. Joseph misses sharing meals with lots of people like he did back in the refugee camp, so when the neighbors finally come over, it's a feast! (Groundwood Books)
From the familiar noises in his refugee camp to the very quiet and lonely new home, Joseph travels from the familiar to the unknown. And even when Joseph tries to make the unfamiliar a little more like home, he finds great pleasure in experiencing something different. The insightful story bridges the transition through food and cooking.
And speaking of cooking, Ken suggests a Trinidadian Curry Chicken recipe – love curry chicken! – in our Recipe section.  Thanks to Alpana of Gypsy Plate for providing her cooking savvy in this dish…check her out at https://gypsyplate.com/ 
To purchase your own copy of A Feast for Joseph, go to https://www.kendaleyart.com/book-illustrations or head to the Giveaway section to win a copy for that little someone in your life!
Reproduced with permission from Groundwood Books Ltd. All rights reserved.