from There to Here
One of the famous Taiwanese street foods. Back in Taipei, Shao could get it in ten minutes by walking down the street. Here in Canada, he prepares it at home for friends.
Serves 6
Timing: 6 hours, 30 min. active
Difficulty: Easy
Ingredients
1 large egg, lightly beaten
300 mL soy sauce
4 garlic cloves, finely minced
120 mL granulated sugar
1 tsp five spice powder
½ tsp ground pepper
500g thin pork chops or shoulder, sliced 1 cm thick
¼ cup tapioca flour
¾ tbsp vegetable oil for frying
Green onions, for garnish
Directions:
In a medium bowl, combine egg, soy sauce, garlic, sugar, five spice powder, and ground pepper.
Gently tenderize pork with the back of the knife. Marinate pork in bowl with soy sauce mixture for 5 hours or overnight.
Heat oil in deep pan or wok to 340F.*
Dredge both sides of the marinated pork with the tapioca flour, shake to remove excess.
Fry pork in pan turning continuously until both sides are golden brown.
Garnish with green onions and serve with white rice to complete the meal.
** To ensure you have oil at the right temperature, dip the handle of a wooden spoon or a chopstick into the oil. If no or very few bubbles pop up, it's not hot enough. If the oil bubbles very vigorously, it is too hot and needs to cool off a little. If the oil starts steadily bubbling, it is ready for frying.
Nada's Tips & Tricks: My carnivore son-in-law loved these chops…no leftovers in this house.  Tapioca flour is very expensive so I used cornstarch instead…worked just fine.  The marinade provides a ton of flavour – I added a little ginger and lemongrass.  Play with it to produce some different combinations. My only problem with this recipe, and others in this book, is that it flips between metric and imperial measurements – either stick with one or provide both.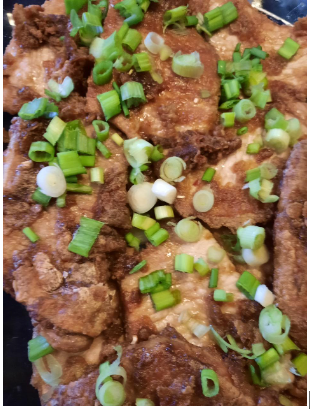 Content and images used with permission by St. Thomas-Elgin Local Immigration Partnership.  https://stelip.ca/