From Happy Hens & Fresh Eggs
These are so easy and elegant – an assembly job really – and they're creamy and spicy and totally impressive-looking on the plate with a side of simple greens for brunch or lunch.
Makes 4 servings as an appetizer or 2 as a main
Ingredients
½ cup (120 mL) mascarpone, at room temperature
¼ cup (60 mL) nduja, at room temperature, casing removed
5 free-run eggs, divided
1 sheet all-butter puff pastry, thawed according to package directions
4 tsp (20 mL) roasted red peppers in olive oil, mild or spicy
Finely chopped fresh basil, chives or flat-leaf parsley for garnishing (optional)
Directions
Preheat oven to 400F (205C).
In a medium bowl, add the mascarpone and nduja and blend well. Set aside.
With a fork, beat 1 egg in a small bowl.
Place a length of parchment paper onto the counter, and very lightly flour the paper. Unfurl the pastry out onto the floured paper and, with a floured rolling pin, roll the dough out just a tiny bit to stretch it another 1 to 2 inches (2.5 to 5 cm) in length. Lift the paper with dough onto a baking sheet.
With the tip of a sharp paring knife, cut the sheet of pastry into 4 squares. Turn up the edges of each pastry square to form a lip and pinch at the corners to keep in place. Brush the edges of the pastry squares with the egg wash and prick the bottom of the squares all over with a fork.
Divide the mascarpone mixture between the 4 squares. Spread out a dollop of cheese in each square and make a depression in the centre to cradle the egg.
Crack an egg into each depression and sprinkle about 1 tsp (5 mL) of the roasted peppers on top of each egg. If you have any runaway whites, just lift up the pastry edge and make that wall higher!
Bake for 10 to 12 minutes, or until edges are puffed and golden and the yolk is starting to set. Sprinkle with chopped herbs if you choose, though it's pretty flavourful as is.
Puff Inspiration: Well, sort of a variation, but really more of a tip and a license to thrill. Once you have mastered thawing and baking puff pastry from a box, you can pretty much top it with anything – sweet or savoury – and come off looking like a freakin' genius! Try this: unfurl the puff, place it on a parchment-lined sheet, cake pan or roasting pan. Spread with a nice layer of Crème Anglaise, stopping 2 inches (5 cm) in from the edges. Now here's where you can do whatever makes you happy: top with thinly sliced fruit, sprinkle with berries, grapes, raisins, dollop with jam; or simply dust with cinnamon or shaved chocolate. Now into the oven to bake.
Nada's Tips & Tricks: What a great recipe – spicy, light and delicious. Puff pastry is so easy to use and presents any dish beautifully. Change things up every time you make it – different protein, cheese (ricotta or cream cheese), herbs. If you can't find nduja in the casing, look for the prepared meat in a jar: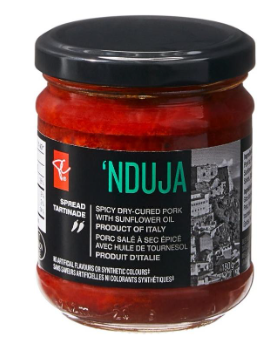 Recipe excerpted with publisher's permission from Happy Hens & Fresh Eggs: Keeping Chickens in the Kitchen Garden – with 100 Recipes, by Signe Langford. ©2015. Published by Douglas & McIntyre. Photo credit: Donna Griffith. https://douglasmcintyre.com/collections/cookbook/products/9781771620970