from Four Fathers Foods Co.
Servings: 4
Prep Time: 20 minutes
Cook Time: 90 minutes
This simple spicy beef stew recipe is the perfect comfort food to bring warmth to your day. The combination of fresh vegetables and aromatic spices, mixed with our Cayenne hot sauce creates the ultimate spicy beef stew. Enjoy and buon appetito!
INGREDIENTS
2 lbs stewing beef trimmed and cubed
3 tbsp flour
½ tsp garlic powder
½ tsp salt
½ teaspoon black pepper
3 tbsp olive oil
1 onion chopped
6 cups beef broth
½ cup red wine optional
1 lb potatoes peeled and cubed
4 carrots cut into 1-inch pieces
4 stalks celery cut into 1-inch pieces
3 tbsp tomato paste
1 tsp dried rosemary
2 tbsp cornstarch
2 tbsp water
¾ cup peas
DIRECTIONS
Combine flour, garlic powder and salt & pepper. Toss beef in flour mixture.
Heat olive oil and hot sauce in a large Dutch oven or pot. Cook the beef and onions until browned.
Add beef broth and red wine while scraping up any brown bits in the pan.
Stir in all remaining ingredients except for peas, cornstarch and water. Reduce heat to medium low, cover and simmer 1 hour or until beef is tender (up to 90 minutes).
Mix equal parts cornstarch and water to create a slurry. Slowly add the slurry to the boiling stew to reach desired consistency (you may not need all of the slurry).
Stir in peas and simmer 5-10 minutes before serving. Season with salt & pepper to taste.
Nada's Tips & Tricks: Depending on your love of heat, you might want to adjust the hot sauce ratio. I used the full two tablespoons and loved it but some people around the table felt it was too hot for them. That's okay, more for me!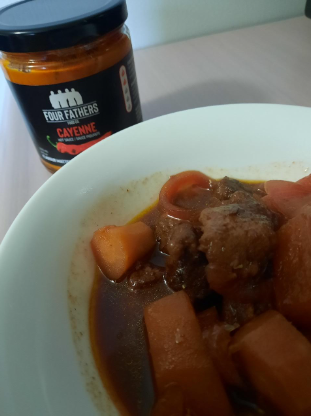 Contents and images used with permission by Four Fathers Food Co. https://www.fourfathersfoodco.ca/