from Hot Cross Buns for Everyone
These hot cross buns have a Caribbean twist with some added ingredients that make them moist, flavourful and a great accompaniment with some sliced cheddar cheese or eaten toasted with butter.
Yield: 8 large buns
Time: 2.5 hours
Bun Ingredients
2 black tea bags (e.g. chai, earl grey)
1 cup hot water (boiled in a kettle)
½ cup milk
¼ cup brown sugar
2 ¼ tsp active dry yeast
¼ cup unsalted butter, softened
3 tbsp fancy molasses
1 large egg, beaten
½ tsp vanilla extract
1 cup raisins
3 ½ cups all-purpose flour
¼ cup granulated sugar
1 tsp ground cinnamon
½ tsp ground ginger
1 tsp pumpkin spice mix (or mixed spice)
½ tsp salt

Crosses Ingredients
3 tbsp unsalted butter, melted
¼ cup all-purpose flour
3-4 tbsp water
Glaze Ingredients
4 tbsp fruit jelly
2 tbsp water
Directions
In a glass measuring jar, pour boiling water over the tea bag and steep for 10 minutes.
Meanwhile in a large bowl, whisk the flour, granulated sugar, cinnamon, ginger, mixed spice, and salt. Stir in the raisins. Set aside.
Remove the tea bag from the hot water. Stir in milk, brown sugar, and yeast. Let sit for 5 more minutes until the yeast starts to foam.
In a large bowl, add the softened butter and molasses. Pour in the warm tea mixture and whisk until everything is incorporated. Slowly whisk in beaten egg and vanilla.
Add the wet ingredients to the flour mixture and stir until combined. Dough will be slightly sticky. You can use a spatula or bowl scraper to fold the dough over on itself, kneading for about 5 minutes.
Leave dough in the bowl, cover, and allow the dough to rest in a warm place for 30 minutes.
After the dough has relaxed, place it on a lightly floured work surface and shape it into a log. Separate into eight sections. Take one section of dough in your palm and roll it into a ball. Repeat with the remaining seven pieces of dough.
Evenly place dough balls on a prepared baking tray lined with parchment paper. Cover the dough balls with a clean kitchen towel or loosely cover with plastic wrap and allow to rest for an additional 30 minutes.
Halfway through the second rise, preheat the oven to 375F (190C).
Prepare the crosses: Brush the top of each bun with butter, then score (about ½ inch deep) with a sharp knife to make guides for the crosses.
Whisk together the ¼ cup of flour and enough water to form a thick paste (it should be a consistency that's easy to pipe).
Place the flour mixture into a zip top sandwich bag. Make a small cut in one corner and pipe crosses along the scored buns.
Bake for 20-25 minutes in the preheated oven.
As the buns are baking, prepare the glaze. Heat the jelly and water together in a small pan over low heat (or carefully in the microwave in a small bowl for about 10 seconds). Stir well.
Remove the finished buns from the oven and immediately brush the sides and tops of the buns with the fruit glaze. Allow to cool for 10 minutes before serving.
Serve warm with butter or a slice of cheese.
Notes
Raisins can be re-hydrated a bit to make them soft in this recipe. You can add them to the boiling water while the tea is steeping, then use a slotted spoon to strain them out before adding to your flour mixture.
Make sure your steeped tea is no hotter than 110F (43C) by the time you add the active dry yeast, as yeast is a living organism that won't survive in high temperatures. Leave it to cool down a bit more, if it's still too hot after you add the milk.
Dough should be allowed to rest in a warm place. If your home is too cold, you can try leaving the dough in a cold oven with the oven light on.
If you don't have jelly, you can use any jam or marmalade, just strain out large, chunky bits of fruit before glazing the buns.
If you don't have active dry yeast, you can use instant yeast.
Nada's Tips & Tricks: my family doesn't like the dark raisins but are okay with the golden ones (they're also softer). Get the kids to decorate the buns with their own swirls and designs. Every European baba has made versions of this recipe but I love the added spice…and the smell from the kitchen is divine!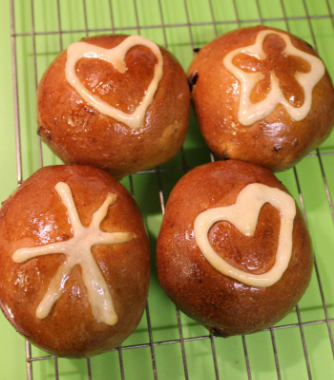 Contents used with permission by Yolanda T. Marshall. https://www.ytmarshall.com/yolanda-marshall-books