from Sweetness
At our house, we love gathering family and friends together to share meals, and one of our favourites is pulled pork. Blade in pork shoulder is best (but not necessary). Best to get started early in the morning as this recipe calls for low and slow smoking. Pulled pork is great as a sandwich, in tacos, on nachos or just sauced on a plate. Enjoy!
Ingredients
1 blade-in pork shoulder
Carolina Mustard Sauce:
1 cup yellow mustard
1/4 cup honey
1/4 cup apple cider vinegar
2 Tablespoons ketchup
2 Tablespoons brown sugar
1 Tablespoon Gluten Free soy sauce (our eldest daughter is celiac so we use GF soy sauce instead of Worcestershire sauce)
1/2 teaspoon black pepper
1 teaspoon salt
1 teaspoon hot sauce
Directions
Using mustard as a binder, coat your pork shoulder with your favourite rub or seasoning. To add another layer of deliciousness, after you've coated the pork with one rub, use a little oil (ex: olive oil spray) to cover the pork, then add another rub. Usually, the second rub consists of larger chunks to help bring some crispiness to the outside (the bark).
Let pork rest at room temperature (it's best if it goes on once meat has reached room temp, but not mandatory).
Turn on the smoker (I have a Louisiana Grill pellet smoker) to 225F.
Once smoker and pork shoulder have come to temp, place pork fat side up on the smoker. Monitor internal temperature.
Pork usually comes to a stall (where internal temperature stops increasing) around 160F. At that time, remove from smoker and wrap in butcher paper (or aluminum foil). Once wrapped, place back on smoker until internal temperature reaches 205-210F.
Now, this is the hardest part – let the pork rest at room temperature for at least 20 minutes. Yes, that means no opening and picking at it!
After you've suffered, being able to smell the deliciousness without touching it, you can unwrap it and pull it. It is advised to continue to try pieces while doing it (for quality control, obviously).
Carolina Mustard Sauce:
Begin by gathering all ingredients and combining them in a small saucepan.
Allow the flavors to cook and blend together for 5 minutes on low heat.
Remove the saucepan from the stovetop and set aside. Allow the sauce to cool completely.
Use the sauce immediately, or transfer it into an airtight container, and refrigerate for up to 2 weeks.
Nada's Tips & Tricks: I love pulled pork and this recipe is amazing. This is the summer to invest in a smoker – enjoy the wonderful flavours you'll produce with this necessary backyard appliance!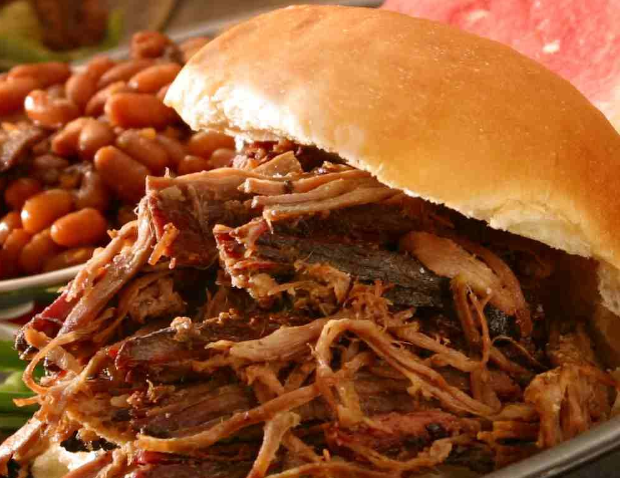 Contents used with permission by Sweetness. https://bysweetness.com/