from Coconut Lagoon
Kakkan means "chili-based" but this dish isn't super fiery, as one might think. The dominating spice, Kashmiri chili powder, is quite mild and used more for color and fragrance than fire. These are fantastic appetizers at a dinner party. Once marinated, the shrimp cook up in an instant.
Ingredients
12 medium shrimp, peeled and deveined, with tails intact
1 (1/2-inch) piece ginger, peeled and cut into thin matchsticks
2 Tbsp plain yogurt
2 Tbsp ground turmeric
1 1/2 tsp Kashmiri chili powder
3 Tbsp coconut oil
1 onion, thinly sliced
10 curry leaves
1 1/2 tsp salt
1 Tbsp fresh lime juice
Handful of cilantro, chopped
To serve: Pappadums
Directions
In a large bowl, combine shrimp, ginger, yogurt, turmeric, and chili powder and mix well. Cover and refrigerate for 6 hours to marinate.
Heat oil in a large frying pan over medium-high heat. Add onion and curry leaves and sauté for 1 minute. Add shrimp mixture and sauté for another 1–2 minutes, until shrimp are just cooked. Season with salt, lime juice, and cilantro.
Serve the hot shrimp on pappadums.

Nada's Tips & Tricks: I couldn't find pappadums in my small-town grocer so I used mini flat breads and it worked perfectly…the presentation and portion was a little bigger than one shrimp bite. Also couldn't find Kashmiri chili powder so used regular chili powder and it worked well. Served these with a salad for a backyard lunch.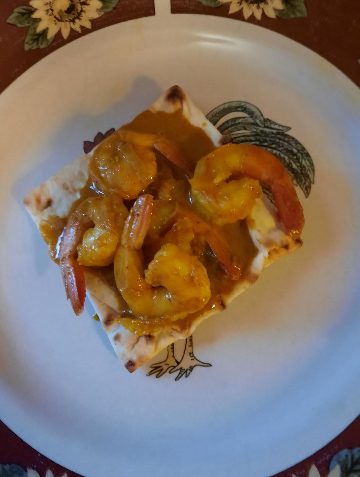 Excerpted from Coconut Lagoon: Recipes from a South Indian Kitchen by Joe Thottungal with Anne DesBrisay. Photographs by Christian Lalonde. Copyright 2019 by Coconut Lagoon. Excerpted with permission from Figure 1 Publishing. All rights reserved. No part of this excerpt may be reproduced or reprinted without permission in writing from the publisher. https://www.figure1publishing.com/book/coconut-lagoon/