from Granny's Kitchen
Preferably eaten with ackee and/or fried dumplings.
Serves 4-6
Ingredients:
½ pound boneless salted codfish
½ cup vegetable oil
4 cloves garlic, chopped
2 onions, chopped
2 bell peppers (red, yellow, green and/or orange), chopped
1 Scotch bonnet pepper, chopped (optional)
3 scallions, chopped
1 sprig thyme
1 teaspoon black pepper
Directions:
Soak codfish in hot water for 1 hour. Replace water and soak codfish again in hot water for 1 more hour (codfish will soak for 2 hours total).
Heat oil in a large skillet or frying pan over medium-high heat and add garlic. Cook garlic for 20-30 seconds. Add onions, bell peppers, Scotch bonnet pepper, scallions and thyme to the frying pan and stir occasionally until onions and peppers become translucent. Add codfish to sauteed vegetable mixture and stir for 5 minutes, until cooked. Sprinkle with black pepper to taste.
Enjoy! 
Nada's Tips & Tricks: I couldn't find ackee in my small-town grocer so served the codfish with rice. Instead of Scotch bonnet, I used hot sauce…an easier way to control the heat level (or use ½ Scotch bonnet pepper and increase to your heat level preference). This was a big hit around the dinner table…even with the grandkids!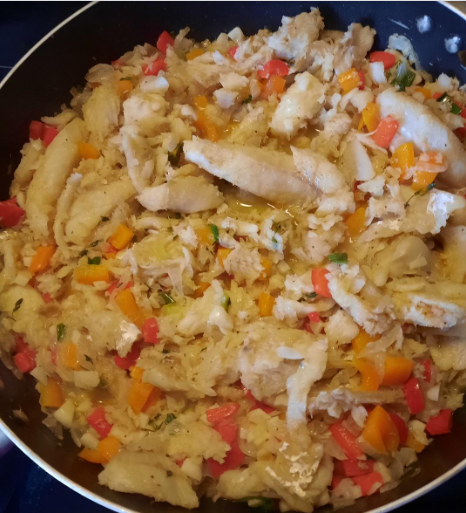 Content and images used with permission by author Sadé Smith https://sadetsmith.com/ and illustrator Ken Daley https://www.kendaleyart.com/