Want to introduce your budding chefs to Caribbean food? Start with an inspiring story about a little girl's experience in the kitchen and her struggles and perseverance that ultimately produces a wonderful meal.
Granny's Kitchen is author Sadé Smith's debut children's book where she portrays a little girl, Shelly-Ann, learning to replicate her grandmother's familiar dishes. Smith doesn't shy away from the frustrations and self-doubt that many children experience when starting their culinary journey. But tenacity and determination wins the day, making granny proud of her little protégé. https://sadetsmith.com/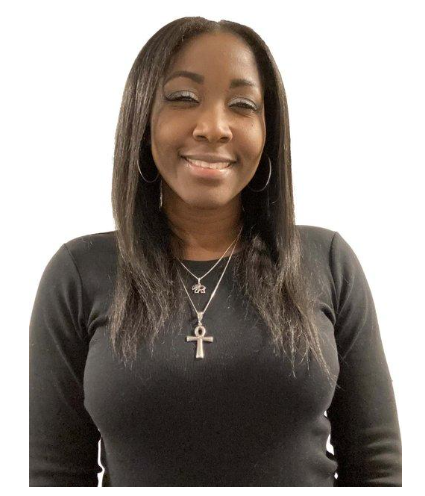 I asked Sadé where she drew her inspiration for this book: "Granny's Kitchen was inspired by my own grandmother and my younger sister. My sister would always ask my grandmother for breakfast and one day, my grandmother decided to teach her how to make it herself. Instead of the regular traditional Canadian breakfast of bacon and eggs, I decided to incorporate my Jamaican heritage into the story to include traditional Jamaican breakfast food items instead. I wanted the readers to get a feel of Jamaican food culture as well as add a dose of nostalgia for the parents who read the story because it is very common for grandparents of all cultures to teach their grandchildren how to cook traditional foods. This story helps to remind readers why grandparents are so special." As a grandparent myself, teaching the little ones how to navigate the kitchen has been rewarding in so many ways!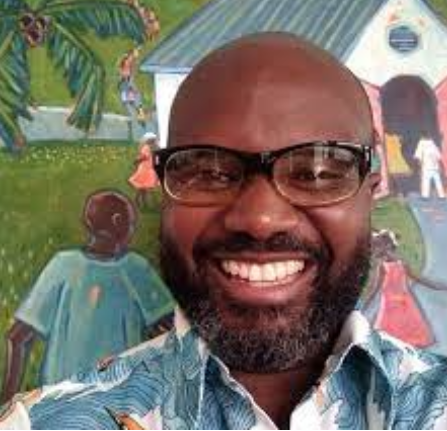 Along with the story, the book is illustrated by Ken Daly, providing a vivid picture of life in Jamaica. We were first introduced to Ken's wonderful artistry in his book, A Feast for Joseph. Check it out at https://canadiancookbooks.ca/a-feast-for-joseph/ Take a look at other books and the amazing artwork Ken has on his website https://www.kendaleyart.com I asked Ken the same question on the source of his creative inspiration for this book: "For me, Granny's Kitchen emphasizes the importance of learning from our parents and elders how to cook delicious, flavourful Caribbean food. I remembered when my Granny showed me how to make Johnny cakes, and the experience of making something together was so memorable that when I think of that moment, it still makes me smile. Even though my Johnny cakes didn't turn out as good as my Granny's, I still appreciate learning something new from my culinary culture and history and being able to pass down the recipe to the next generation."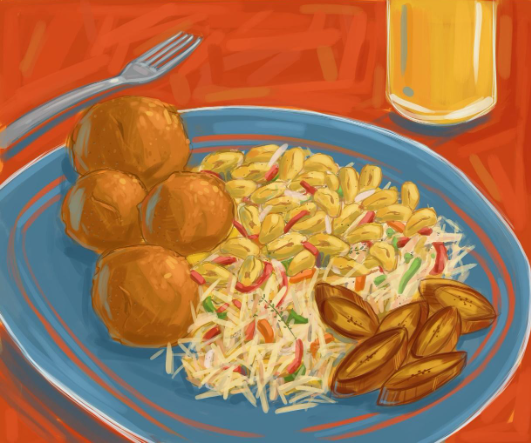 The book includes recipes that Shelly-Ann tries to make and we gave Saltfish a try…check it out in our Recipe section. Sadé encourages you to serve it with the ackee recipe but in small town Ontario, I couldn't find any so served it with rice. This will become one of our family's favourite dishes…easy, tasty and versatile. I asked Sadé what she likes to make for family and friends: "My favourite dish are my famous buffalo chicken spring rolls. But if we're talking about Jamaican food, I make really good festivals which are kind of like sweetened Jamaican dumplings. The recipe for Jamaican dumplings is included in the back of Granny's Kitchen as well." For Ken, his favourite Caribbean dishes are roti and ackee & saltfish – looks like a favourite all-around!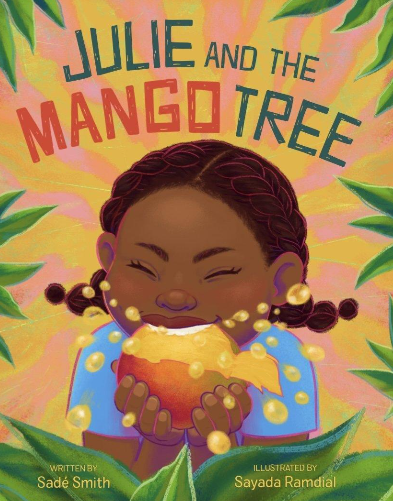 So what's in store for Sadé Smith? "I have a new book coming out on August 8, 2023 called Julie and the Mango Tree, illustrated by Sayada Ramdial. It is a cute story with absolutely beautiful illustrations about a little girl named Julie (named after the Julie mango) who just wants a mango and she tries so hard to get a hold of her favourite fruit. This book also includes recipes in the back of the book. I also have a few other manuscripts in the works which I plan to finish soon. Updates will be made available on my Twitter and Instagram @stc_smith and on my website www.sadetsmith.com Looking forward to reading your next book, Sadé.
Ken has been a busy guy as well: " It's been a really busy year for me as I've released three new books this year including 'Granny's Kitchen', and I'm working on four new books at the moment. 'Jayden's Secret Ingredient' is one of the books I'm currently illustrating that includes themes of community, teamwork, gardening and cooking green beans. It's slated for release in 2023." Can't wait to see more of your work, Ken! https://www.kendaleyart.com/book-illustrations
To win an autographed copy of Granny's Kitchen, go to our Giveaway section. To purchase a copy (Christmas is coming!!) check out https://sadetsmith.com/books 

Content and images used with permission by author Sadé Smith https://sadetsmith.com/ and illustrator Ken Daley https://www.kendaleyart.com/