from G'day
Ingredients
4 Pork Chops
1 Green Pepper (chopped)
1 Red Pepper (chopped)
2 Medium Sized Onions (sliced)
3 Portobello Mushrooms (sliced)
4 Cloves of Garlic (minced)
1/2 cup of Parmesan cheese
1 cup of shredded Mozzarella cheese
2 cans of stewed tomatoes
1 can of tomato paste
Breadcrumbs
Noodles or mashed potatoes
Instructions
1. Coat pork chops with breadcrumbs. Brown in frying pan.
2. In another pan combine sliced veggies. Sautée for 5-8 minutes.
3. In a large roast pan, mix the vegetables with the canned tomatoes and tomato paste.
4. Lay pork chops on top of the mixture.
5. Put Parmesan and mozzarella cheese on top of pork chops.
6. Cover and roast at 350 degrees for 45 minutes
7. Serve with noodles or mashed potatoes! 

Nada's Tips & Tricks: A play on the classic chicken parm, pork chops are a great substitute. Be sure to visit your local butcher or farmer's market to get the best raw ingredient – it makes a difference in the final taste of this dish!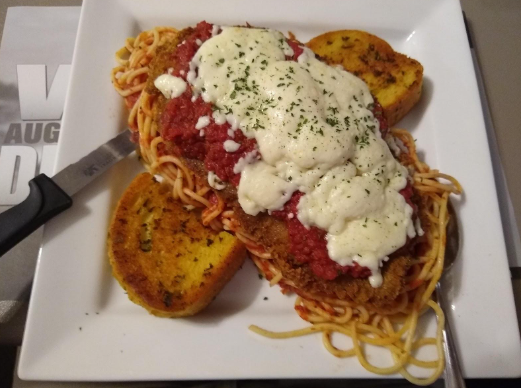 Recipe used with permission by G'day.  https://shopgday.ca/