from Secrets of a Hutterite Kitchen
1 cup poppy seeds
2 cups cream
2 cups raisins
2 eggs
1 cup sugar
2 teaspoons cinnamon
1 teaspoon vanilla
2 cups bread crumbs (just take a few slices of bread and cut them up, crusts and
all)

In a saucepan cook poppy seeds and cream over low heat for 5-10 minutes.
Add raisins and allow mixture to cool to lukewarm.
Stir eggs, sugar, cinnamon, vanillaand bread crumbs together and then add to poppy seed mixture.
Put in fridge and allow to set so it's nice and firm.

Pocket Pastry
1 cup milk
¼ cup butter
¼ cup sugar
½ teaspoon salt
2 eggs well beaten
1 package dry yeast
¼ cup lukewarm water
2½-3 cups flour
Dissolve yeast in the lukewarm water. Scald milk, add butter and cool to lukewarm. Add sugar to well beaten eggs. Beat thoroughly and add to warm milk mixture. Add enough flour to create smooth dough. Knead well and place in a lightly greased bowl. Cover and let rise in a warm place until double in size. (Approximately 2 hours.) Roll out the dough and cut into large squares. Add a generous dollop of the poppy seed filling and enclose the filling inside the dough pinching the ends shut as you would a large perogy.
Bake at 350 for 20 to 30 minutes.
Amazing!
Recipe used with permission by Mary-Ann Kirkby, Secrets of a Hutterite Kitchen. https://www.polkadotpress.ca/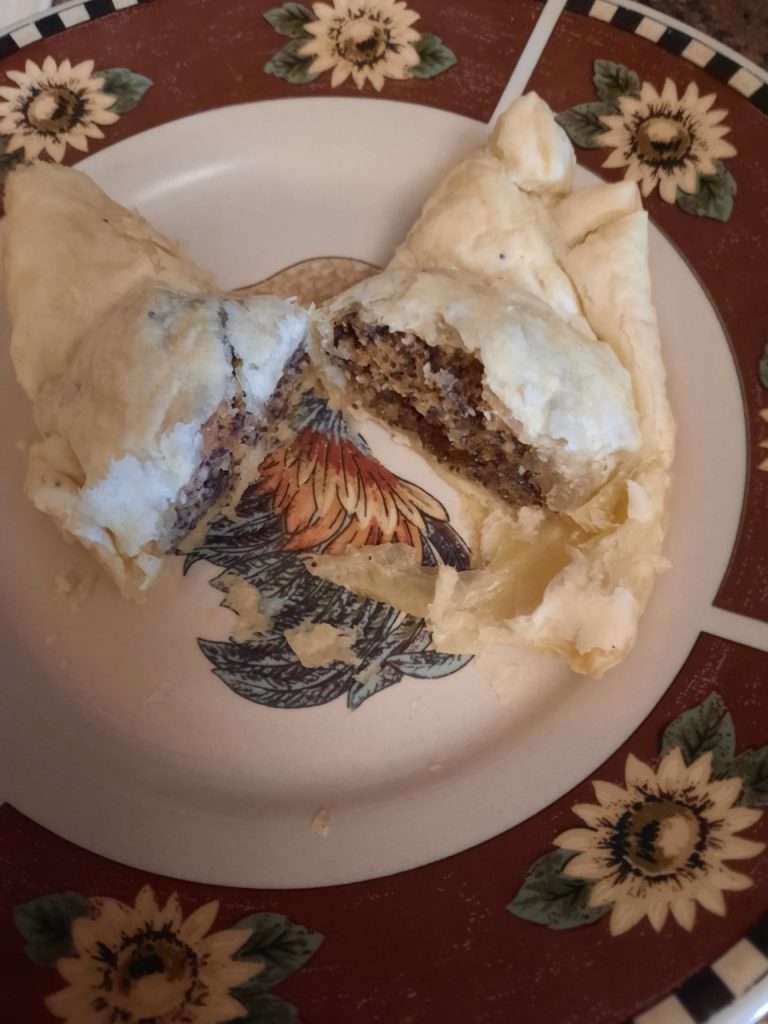 Nada's Tips & Tricks: I used store bought pastry and it worked well. This recipe was a hit and miss – I loved it because it reminded me of my grandmother's baking. The kids…not so much. This recipe makes a lot of filling so be prepared for lots of yummy rolls of goodness.