from Seasons of Plenty
Several years ago, Aunt Freida – my husband's aunt – was visiting. She saw me making hard-boiled eggs and share with me her method. I've done it her way ever since and never have the grey ring around the yolk.
Because we grew up on a farm and had plenty of our own eggs, devilled eggs were served often in our home. They were nothing special. It wasn't until a few years ago when Todd, our eldest son, asked me to make devilled eggs, that I realized they were such a treat to other people. These are dressed up a bit for those special occasions.
Ingredients
6 hard-boiled eggs
½ cup finely chopped ham or ¼ cup crumbled cooked bacon
1-2 dill pickles, finely chopped
2-3 tablespoons mayonnaise
2 teaspoons Dijon mustard
Paprika
Directions
Aunt Freida's method – place eggs in the bottom of a saucepan. Do not stack on top of each other and leave space between the eggs. Cover with at least 1" of cold water. Bring the water to a boil over medium high heat. Remove from heat, put the lid on the saucepan and allow to sit for 10-15 minutes (depending on the size of the eggs) – no longer. Drain off the hot water and run under very cold water until the eggs are completely cooled. Peel.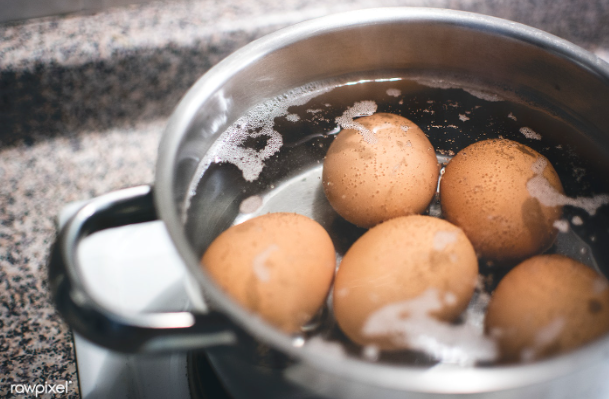 Cut the eggs in half lengthwise and remove the yolks. Mash the yolks and add the remaining ingredients except the paprika. Mix thoroughly until blended. Scoop yolk mixture back into the egg white shells. Sprinkle with paprika. Cover with plastic wrap and refrigerate until ready to serve.
Makes 12.
Content used with permission by author, Doreen M. Bleich. https://doreenbleich.com/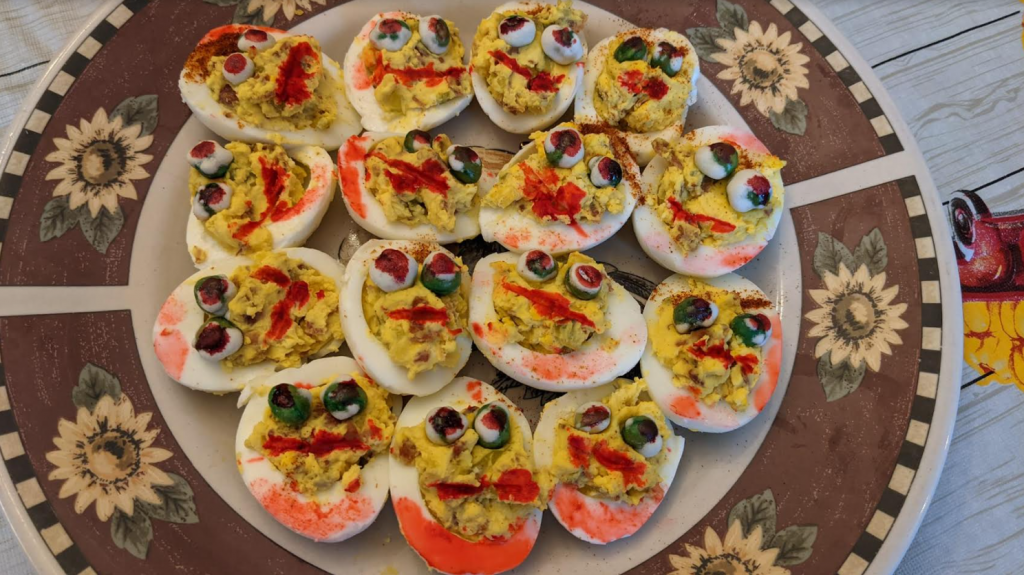 Nada's Tips & Tricks: The bacon is a nice touch. Used relish instead of the pickles. And added some edible Thanksgiving/Halloween touches for decoration…wasabi peas for eyes and red food colouring for bloody accents. This is a great activity for kids/grandkids for any holiday…just change up the add-ons and colours!