from French Food for Everyone: Dinner
Papillote (Pap-ee-ot), Ratatouille (Rat-a-too-ee). Are there more fun words in the French language? (Actually, if you ask my students, there are Pamplemousse, for example. But, I digress…). This "two for one" recipe cooks the vegetables with the fish at the same time (en papillote refers to a dish that's cooked and served in parchment paper or tinfoil). I personally love white fish served with ratatouille and steamed white rice and this is so easy and appealing (so much fun to have your own little "present" served for dinner). It's a perfect way to get both dishes on the table with very little hands-on time.
Serves 2
Ingredients
2 firm white fish fillets (e.g. cod or halibut) between 150-250g/5.3-7oz each (1 inch-2.5cm thick)
¼ cup very finely chopped shallot (about 1 shallot, 40g/1.4oz)
¼ cup very finely diced zucchini (about ¼ zucchini, 40g/1.4oz)
¼ cup very finely diced bell pepper (about ¼ pepper, 40g/1.4oz)
¼ cup very finely diced eggplant (about ¼ baby eggplant, 40g/1.4oz)
¼ cup very finely diced tomato (about 4-6 cherry tomatoes, 40g/1.4oz)
2 large cloves garlic, minced
6 large basil leaves, finely chopped
¼ teaspoon flaky sea salt
A few generous grinds freshly ground black pepper
1 tablespoon olive oil
Fresh parsley, thyme and basil, finely chopped, to garnish
Directions
Preheat oven to 400F and prepare a small baking tray (large enough to hold both fillets).
Cut 2 squares of parchment paper about twice the size of the longest side of the fish fillets.
In a small bowl, mix the shallot, zucchini, pepper, tomato, garlic, basil leaves, salt, black pepper and oil. Stir to combine and taste to see if you need extra pepper or salt.
Place the fish in the middle of each sheet of parchment on the baking tray and top each fillet with half of the ratatouille mixture.
Bring opposite sides of the parchment together and double fold the edges. Do the same for the other ends of parchment paper and carefully tuck both ends under the fish.
Bake for 20 minutes then remove the tray from the oven.
Carefully unfold the parchment paper – there may be some liquid pooling in the bottom of the parchment so pour this off over the sink or scrap bowl.
Serve with steamed white rice (either serve your rice directly into the parchment or remove the fish from the parchment and lay it on top of the rice). Sprinkle with fresh herbs.
Note that "finely diced" here means VERY fine, otherwise the vegetables won't cook by the time the fish is cooked!
Serve with White Sancerre or Provencal Rose wine. Alternatively, New Zealand Sauvignon Blanc.
Nada's Tips & Tricks: I've made variations of this before and it's a great meal every time. To ensure the veggies are cooked, I sauté them in some butter and chili oil before placing them on the fish, giving them a little head start on the cooking process. You can also make some extra veggies to add to the rice. Use whatever vegetables you have on hand – mix and match to your taste without running to the store for these specific ingredients. If you want a little extra pop on the fish, add a sprinkling of Old Bay Seasoning.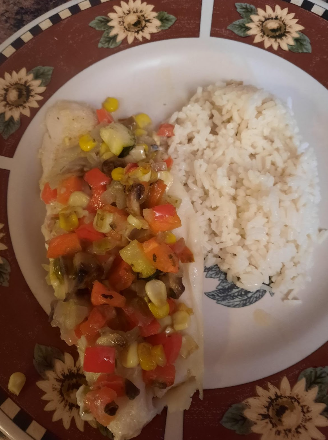 Recipe and images excerpted from French Cooking for Everyone: Dinnner © Mardi Michels (MLM Publications 2021) https://www.eatlivetravelwrite.com/