Quebec Maritime Region Culinary Tourism
Photo credit: ©Studio du Ruisseau/Le Quebec maritime
When my kids were pre-teens, we took a road trip through Quebec, navigating the Gaspe Peninsula, staying in Perce, before heading to New Brunswick. The drive around the peninsula is a must drive for any road tripper…it's absolutely spectacular. While you navigate steep climbs, dips and curves, you'll find tucked-in coastal villages with local diners and food trucks providing the freshest and tastiest of food.
"Quebec By the Sea" Tourism provides the road trip aficionado with some delectable choices in the region…after leaving Quebec City (my most favourite city in the whole world!!), head to Bas-Saint-Laurent, the gateway to the Maritime region of Quebec. Take in a guided tour ofDomaine Acer / Maple Economuseum – https://domaineacer.com/ – alcohol beverages made with maple sap and then try some divine chocolates at La Fée Gourmande – https://lafeegourmande.ca/ Want a different experience for your overnight stay? How about a lighthouse? Discover it at https://duvetnor.com/en/lodging/
Photo credit: © Studio du Ruisseau/Le Quebec maritime
If you find yourself on the north shore of the St. Lawrence River, be sure to visit Baie-Comeau in the Côte-Nord region. Enjoy the freshest of seafood followed by a cloudberry dessert. Then take a free, self-guided tour of Microbrasserie St-Pancrace and learn about the interesting history behind this legendary brewery. https://microbrasserie.stpancrace.com/en/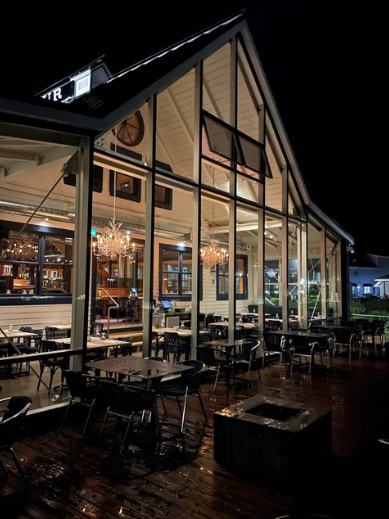 Driving around the peninsula into the Gaspe region, you'll want to stay in Perce where you can see the infamous rock from anywhere in town. Lined up and down main street are local eateries from diners to fine dining like La Maison du Pêcheur restaurant https://www.maisondupecheur.ca/ We tried a pub that provided the most scrumptious dishes along with local entertainment. Looking for strawberry wine? You'll find it at Ferme Bourdages Tradition https://fermebourdages.com/ where you can join a guided tour and shop in their boutique of culinary delights.
Îles de la Madeleine is on my bucket list to visit…halfway between Quebec and Newfoundland is this intriguing island worthy of a foodie's visit. Johanne Vigneau, offers homemade products and culinary workshops (French only) at Gourmande de Nature http://www.gourmandedenature.com/ You'll want to check out https://lebongoutfraisdesiles.com/ (turn your translator function on for English) to find more local food producers and restaurants. There's a bevy of foodie delights here!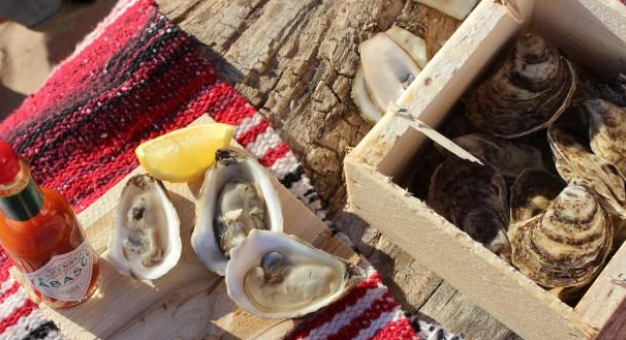 Or why not take a boat ride out on the ocean to discover how your seafood is harvested and then enjoy some oyster samplings with the captain? You'll try the freshest of seafood while learning the struggles and successes of aquaculture. https://www.lesculturesdularge.com/excursions-maritimes/
Don't want to drive the region? How about a cruise that will take you from Montreal to points along the St. Lawrence seaway: you can relax in your own cabin, let someone else do the driving and stop in all the coastal locales for tours and seaside dining. Another trip on my bucket list! https://www.quebecmaritime.ca/en/what-to-do/cruises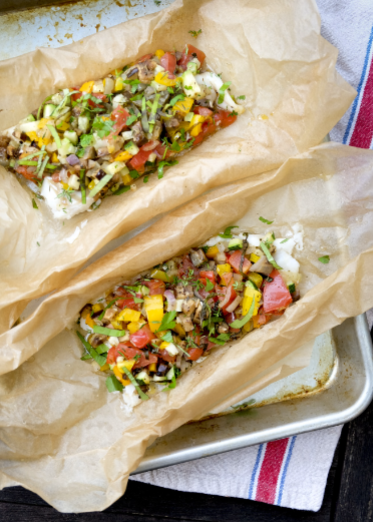 Since we're talking about seafood, we wanted you to try an authentic French dish in our Recipe section.  Mardi Michels (eat.live.travel.write) shared her Papillote de Poisson a la Ratatouille recipe – versatile and delicious, from her cookbook, French Food for Everyone (Dinner).  Use whatever veggies you have on hand and your palates prefer.  I also sprinkled some Old Bay Seasoning on the fish for a little extra pop. French food can be easy to make…I promise!
Win this lovely French book in our Giveaway section or purchase a copy at Mardi Michels (eat. live. travel. write) https://www.eatlivetravelwrite.com/
Content and images used with permission by Quebec By the Sea https://quebecmaritime.ca/en/flavours/ and © Mardi Michels (MLM Publications 2021) https://www.eatlivetravelwrite.com/