from The Newfoundland and Labrador Seafood Cookbook
4–6 SERVINGS
A one-pan meal, paella may be as simple or elaborate as you wish. Lobster may be added, or rabbit could replace the chicken.
Ingredients
6 tablespoons olive oil
½ pound garlic-seasoned smoked pork sausage, preferably chorizo, cut into 1/4-inch slices
3 chicken legs, thighs and drumsticks separated
1 medium-sized onion, finely chopped
2 cloves garlic, finely chopped
1 small yellow pepper, cut into small dices
1 large tomato, peeled, seeded and chopped
2 cups medium- to long-grain white rice
¼ teaspoon saffron threads, pulverized, dissolved in 4 cups hot fish stock
12 large shrimp, in their shells
12 clams, in their shells, purged of sand, scrubbed
24 mussels, preferably cultivated, in their shells, scrubbed and debearded
1 large green pepper, cut lengthwise into ½-inch strips
Lemon wedges
Directions
Preheat the oven to 400ºF.
In a heavy paella pan, about 14-inches in diameter, or a shallow roasting pan, heat 4 tablespoons of the olive oil over moderately high heat. Fry the sausage slices, turning them, until they are well browned on both sides. With a slotted spoon, remove the sausage and set it aside to drain on paper towels. Add the chicken pieces to the fat remaining in the pan and brown them well on all sides. Remove the chicken to a plate and set it aside.
Add the onion, garlic, yellow pepper and tomato to the pan, stirring over moderate heat for 3 or 4 minutes, or until the vegetables begin to soften. Raise the heat and cook, stirring, until most of the liquid has evaporated. With a slotted spoon, remove the vegetable mixture to a dish and set it aside.
Add the remaining 2 tablespoons of olive oil to the pan. Stir in the rice and stir gently, over low heat, until the rice is thoroughly coated with the oil. Stir in the vegetable mixture and the hot saffron-fish stock. Remove the pan from the heat. Arrange the sausage, chicken pieces and shrimp on top of the rice. Push the clams and mussels down into the rice, interspersed them evenly among the other ingredients. Scatter the strips of green pepper on top.
Bake the paella, uncovered, on the lowest shelf of the oven for 35 minutes, or until the rice is just tender. Remove the pan from the oven and drape a clean kitchen towel over it. Let the paella rest for 10 minutes.
Garnish the paella with lemon wedges and serve it from the pan.
Content used with permission by Breakwater Books.
https://www.breakwaterbooks.com/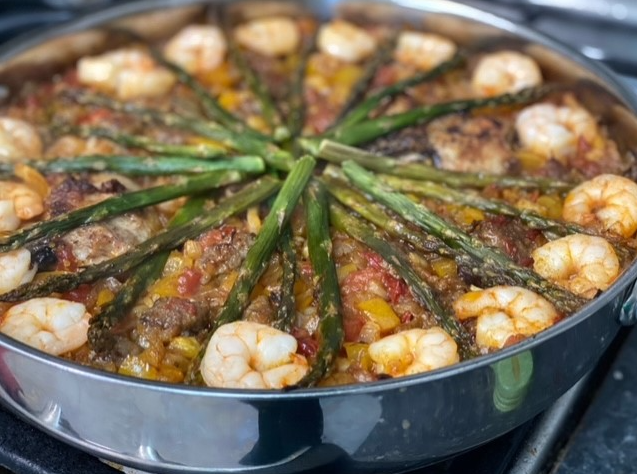 Cathi's Tips & Tricks: I had to make a few substitutions due to seafood availability/available green veg and I used Arborio rice. Flavor was good, good instructions, easy to make.