Tis the season for backyard barbecues, camp fires and eating outdoors. And if you're tired of the same old recipes and want to try some easy and delicious fare for your next dinner, this is the cookbook for you. The Mavis team proves that you can cook anything on an open flame and be a successful grill master. From choosing the appropriate grill for you and your lifestyle, to grilling methods, charts for various meat cuts, heat levels and cooking times to delicious recipes…Tide's Table is a great resource for summertime cooking. Even though the cookbook is over 20 years old, the tried and true methods of outdoor cooking is still relevant.
I'm nervous about grilling chicken because I'm afraid it won't cook all the way through and have served partially raw poultry in the past (or so overcooked the meat that it turned out dry). And I've never tried a dessert on the grill. So we gave the Hot Lemonade Chicken Wings and Honey-Nut Grilled Apples a try – check them out in our Recipes segment. Both were a big hit with the family. Ross and Willa provide the steps necessary to put any concerns behind you and become confident with whatever environment you're in and what food you're serving – all in the great outdoors!
I had the distinct pleasure of speaking with Ross and Willa who not only provided much of the background information of their culinary experience, but projected why people are so attracted to what they say and do. Ross and Willa are the most giving and warm people and that came through on our phone call.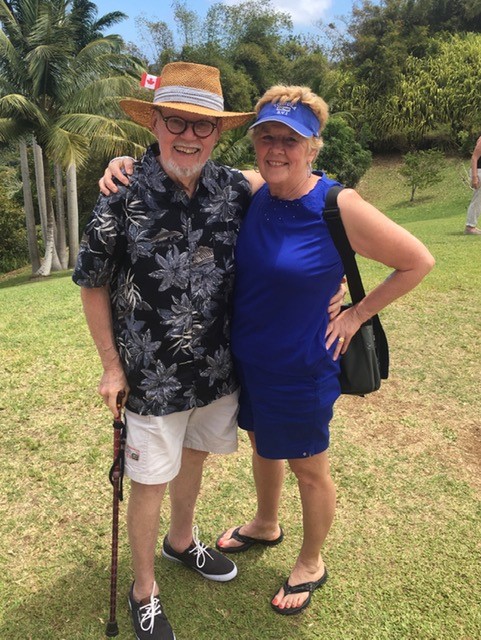 The couple met in Toronto before moving to the Maritimes, specifically St. John to open a beautiful inn that attracted people from all over the world. In fact, they become "local tour guides" for bus and cruise travelers, starting with a lovely English tea, scones and homemade jam breakfast then introducing the vacationers to local attractions and culinary experiences. The province hired Ross and Willa to provide meals for low-income families at their inn. Besides feeding the family, they would show the guests how to make great meals at low price points. They feel proud to be able to help those who needed a little assistance.
Ross and Willa were the hosts of the television cooking show Tide's Table for many years and their Inn on the Cove, a bed and breakfast ten minutes from downtown Saint John, New Brunswick was a popular destination. Guests liked the show and would book a vacation at the Inn. People fell in love with both the inn and Ross and Willa.
Check out one of their "Tide's Table" videos:
Where does the term Tide's Table come from? It came from an interaction Ross had with a Newfoundlander who told him that when the tide is out, the ocean floor becomes the "tide's table" full of marine life to harvest. During this time, they also produced two cookbooks – the Outdoor Cooking cookbook featured here and Tide's Table: Maritime Cooking. Get your own copy of this book, click here:
Unfortunately, the Inn became the victim of a fire in 2000. The Inn was not able to be restored and was torn down. Since then, Ross has continued to write cooking columns for the local newspaper and the Caribbean Compass. Ross and Willa have an amazing work ethic and continue to apply their skills in whatever opportunities are presented to them. True Canadian gems!
To purchase a copy of Tide's Table, go to https://gooselane.com/products/outdoor-cooking-from-tides-table
And don't forget to enter to win a copy in our Giveaway section.
Copyright © 2000 by Ross and Willa Mavis Reprinted from Outdoor Cooking from Tide's Table by Ross and Willa Mavis by permission of Goose Lane Editions