from The Olive Oil & Vinegar Lover's Cookbook
These are decadent, so beware. Transform them into sundaes by serving them with Olive Oil Ice Cream and a balsamic crème (in the cookbook). Use a mini muffin tin to make a two-bite brownie that's perfect for adding to packed lunches. You can add ½ cup walnuts or pecans if you like, but these really are perfect as is.
Makes one (8×8 inch) pan
Ingredients
½ cup Blood Orange infused olive oil
1 cup granulated sugar
2 large eggs
2 tsp Espresso dark balsamic vinegar
¾ cup Dutch process cocoa powder
½ cup all-purpose flour
½ tsp baking powder
¼ tsp fine sea salt
Directions
Preheat the oven to 350F. Line an 8×8 inch baking pan with parchment paper.
In a large mixing bowl, use a wooden spoon to combine the olive oil with the sugar. Add the eggs and balsamic and stir just until blended. Sift the cocoa, flour, baking powder and salt it into the oil/sugar mixture. Be careful not to overmix and beat in too much air – otherwise they'll turn out too dense and be more like cake than brownie.
Pour the mixture into the prepared pan and bake for 20 minutes, or until the brownie just starts to pull away from the sides of the pan. Cool completely in the pan before cutting.
Notes: Feel free to drizzle these brownies with any aged dark balsamic vinegar to enhance your experience. Try Black Cherry dark balsamic instead of the Espresso – delicious!
You can also substitute strong espresso coffee for the balsamic.
Nada's Tips & Tricks: Don't let the specialty oils and vinegars deter you from making these recipes. I infused virgin olive oil with a blood orange overnight to get the flavour as well as infusing dark balsamic with instant dark coffee grounds. Not as good as a produced product but will do in a pinch. Served the brownies at our Christmas celebration and they flew off the table.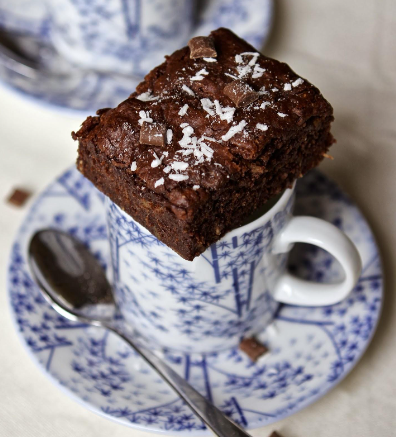 Recipe by Emily Lycopolus from The Olive Oil & Vinegar Lover's Cookbook, text copyright © 2019 by Emily Lycopolus. Reprinted with permission of TouchWood Editions. https://www.touchwoodeditions.com/book/the-olive-oil-and-vinegar-lovers-cookbook-2/