from Honey
Although these little skewers make for a great cocktail item, they can easily be made larger and served as a starter or part of a buffet.
Makes 24 skewers
Serves 6-8 as an appetizer
Ingredients
2 boneless, skinless chicken breasts, each cut into 12 (1-inch) cubes
1 ½ lb lean pork leg, cut into 24 (1-inch) cubes
1 Tbsp minced fresh ginger
1 Tbsp minced garlic
1 Thai chili, seeded and minced
2 tsp ground coriander seeds
1 tsp ground fennel seeds
2 tsp toasted sesame oil
2 tsp honey
Pinch of salt
Fresh lime wedges, for serving
Honey Peanut Sauce
2 Tbsp vegetable oil, divided
1 ½ cups (6 oz) blanched peanuts
1 small onion, chopped
2 cloves garlic, minced
1 Tbsp chopped fresh ginger
1 Thai chili, seeded and chopped
¾ cup coconut milk, more if needed
2 Tbsp soy sauce
2 Tbsp honey
1 Tbsp fresh lime juice or to taste, more if needed
Equipment
24 (4- to 5-inch-long) bamboo skewers
Instructions
Soak the bamboo skewers in warm water for several hours or overnight. Thread one cube of chicken and one cube of pork onto each skewer. With the back of a heavy knife or cleaver, flatten the pork and chicken slightly.
In a shallow dish or container, place the skewers in a single layer. In a bowl, combine the ginger, garlic, chili, coriander, fennel, sesame oil, honey, and salt, and then pour the mixture over the skewers. Cover and refrigerate for 2 hours.
Make the honey peanut sauce:
Heat a wok or frying pan on medium and add 1 tablespoon of the oil. Add the peanuts and stir constantly for 1 to 2 minutes to toast. Turn the peanuts out onto a plate.
Add the remaining tablespoon of oil to the pan. Add the onion, garlic, ginger, and chili, and cook on medium heat, stirring for 30 seconds. Add the coconut milk, soy sauce, honey, lime juice, and toasted peanuts, and bring to a simmer. Cook until slightly thickened and remove from the heat.
Cool slightly, and using a blender or food processor, blend until smooth. If the sauce is too thick, thin with extra coconut milk and lime juice.
Grill the satay:
Heat a charcoal or gas grill to medium-high or turn on the broiler of the oven (the satay should be 2 to 3 inches away from the element). Place the skewers on the grill or, if using a broiler, on a foil-lined tray. Cook for 2 to 3 minutes on each side.
Serve with the lime wedges and with the Honey Peanut Sauce on the side for dipping.
Contents and images used with permission by Angelo Prosperi-Porta and Touchwood Editions. https://www.facebook.com/angelo.prosperiporta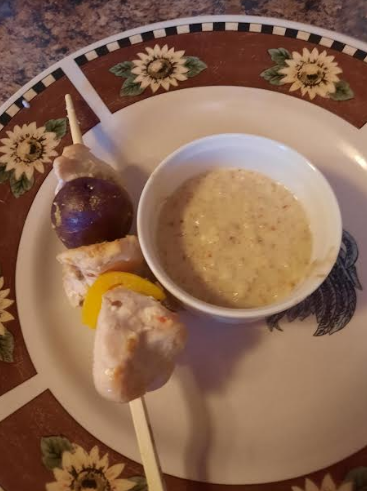 Nada's Tips & Tricks: I turned this recipe into a kebab with yellow peppers, and baby potatoes.  Served it with garlic rice and Chinese mixed vegetables.