from In Grace's Kitchen
Ingredients
1 pound lean ground beef
2 cans tomato sauce
1 tablespoon vegetable oil
3 cloves garlic, chopped
½ teaspoon salt
½ teaspoon pepper
2 tablespoons chopped fresh parsley
1 carton ricotta cheese
3 cups grated mozzarella cheese
½ cup grated Parmesan cheese
1 box lasagna noodles, cooked and drained
Cooking Time: 1 hour and 10 minutes
Instructions
In a large frying pan, add oil and sauté garlic until slightly brown. Add beef and cook over medium heat until no longer pink. Drain the beef, then add the tomato sauce and a little salt and pepper. Bring to a boil, reduce heat and simmer for about an hour, stirring occasionally. Meanwhile, cook lasagna noodles as directed on package.
Combine the ricotta cheese and parsley together, along with the Parmesan cheese. Fill a ladle with meat sauce and spread in an ungreased baking dish. Layer with noodles, then place ricotta mixture on noodles and sprinkle one cup mozzarella on top. Layer with more noodles and meat sauce, remaining ricotta mixture and one cup mozzarella. Top with remaining noodles, meat sauce and mozzarella.
Cover with foil and bake at 350F for 1 hour. Uncover and let stand 10 minutes before cutting.
Content and Images used with permission by Wolsak and Wynn Publishers Ltd. https://bookstore.wolsakandwynn.ca/collections/non-fiction/products/in-graces-kitchen-memories-and-recipes-from-an-italian-canadian-childhood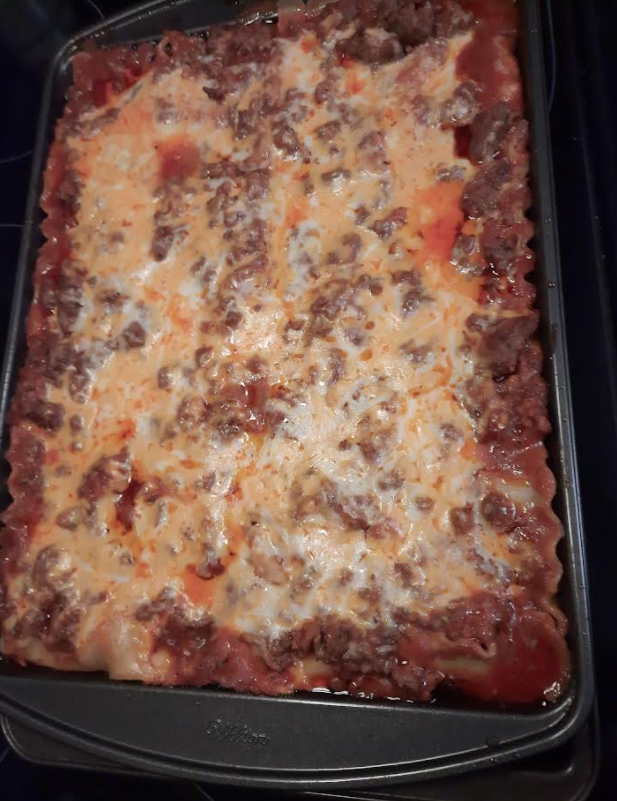 Nada's Tips & Tricks: As lasagna's go, this is an easy recipe.  I mixed tex mex cheese blend with the mozzarella to give it a little kick.  Grandkids loved it!